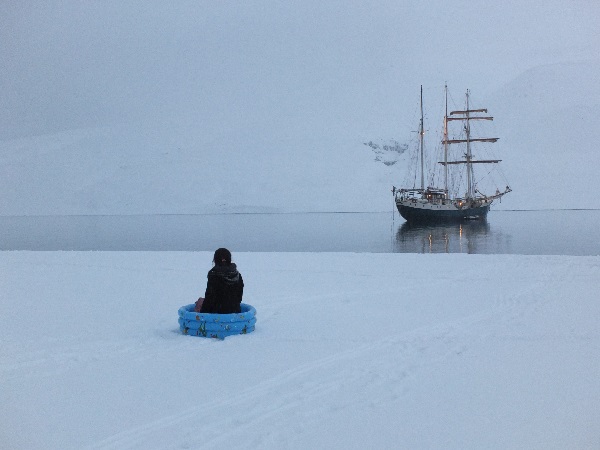 "A Consumer's Sigh series─With My Baby Zodiac" (single channel video, 3'58'', 2018); Credit: Tzu-Ling Lee
The BlackBox of Casino Luxembourg will be showcasing the works of various Taiwanese artists as part of the joint Luxembourgish-Taiwanese exhibition "The Ouroboros" from 28 August to 28 October 2019.
Hosted by Amy Cheng of TheCube Project Space in Taipei, The Ouroboros is a two-part joint international exhibition marking the second phase of the 2018/2019 exchange programme between Taiwan and Luxembourg.
Taking the iconography of the ouroboros (an ancient symbol of a snake eating its own tail) as a point of departure, Amy Cheng questions the survival of the human species in the era of the Anthropocene through the eyes of artists on the realities and phenomena of the contemporary world. The Ouroboros brings together video works that offer a multi-level dialogue on topics as diverse as survival systems or techniques, visions of the future, evolutions in the triangular relationship between man, technique and nature or even cosmopolitics.
The ouroboros is an archaic symbol of a snake biting its tail. The devouring snake itself becomes a circulatory image (often illustrated by the symbol "∞" to signify completeness or infinity), which gives shape to the idea of ​​self-destruction. There is an abundant profusion of representations and interpretations of this symbol, which implies a pluralistic vision of development as a nonlinear phenomenon. Among the most common meanings attributed to it are the "loop", "infinity", "cycle of birth and death" and "repetition". Appearing in different religions and mythologies, it is also an essential sign in alchemy. In the modern era, psychologist Carl Gustav Jung claimed that the ouroboros was in fact a manifestation of the archetype of the human psyche.
By appropriating the evocative potential of this symbol, the exhibition focuses on the phenomena of civilisation and the impulses of domination and progress that characterise humans, but also on the impact of transformations of the environment on contemporary society.
The Ouroboros exhibition, curated by Amy Cheng, features the works of artists Chi-Yu Wu, Yin-Ju Chen, Chieh-Jen Chen, Tzu-Ling Lee, Ayoung Kim, Tao Zhou, Hassan Khan and Tzu-Nyen Ho. It will run from 28 August to 28 October 2019 with a special meeting, in English, with Chi-Yu Wu and Tzu-Ling Lee along with Amy Cheng scheduled for Thursday 24 October 2019 at 19:00.