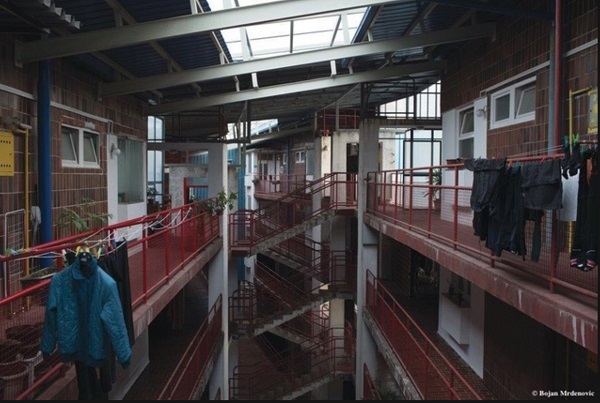 Credit: Bojan Mrdenovic
The Insitut Pierre Werner (IPW) and the Luxembourg Center for Architecture (LUCA) have announced the speculative design exhibition "Free Space - A Case Study of Red and Blue in Rijeka.
The exhibition, which deals with the freedom of space using the example of a socialist architectural project, will run from 31 March to 26 April 2019. Using the example of the eponymous housing project "Red and Blue Buildings", the exhibition explores the question of what influence the spatial organisation has on the social coexistence of inhabitants.
In 1978, architect Ninoslav Kučan planned a promenade with nursery schools, cafes and a large number of meeting places in order to create meeting places within the two complexes. The project was never entirely completed, so that the residents of the "Blue Building" erected walls on their own, destroying the original idea of ​​a public space. The identically planned "red building", however, still has a promenade.
Accordingly, the exhibition explores whether and to what extent our freedom is linked to the space in which we live. The exhibition thus gives an insight into the truly original concept of the Red and Blue Buildings, the narrative of the inhabitants and speculative scenarios for future use.
The vernissage of the exhibition is scheduled for this Saturday 30 March 2019 at LUCA, from 17:30. Curators Leo Kirinčić, Maša Poljanec and Davor Mišković will be present on this occasion.
Admission to the exhibition is free.