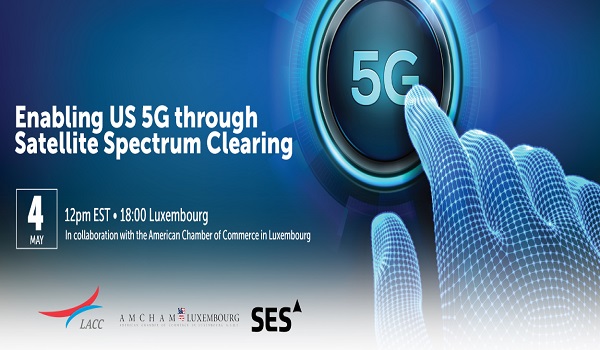 The American Chamber of Commerce in Luxembourg (AMCHAM) has announced that it is organising, in partnership with the Luxembourg-American Chamber of Commerce (LACC) New York and SES, a webinar on "Enabling US 5G through Satellite Spectrum Clearing" on Tuesday 4 May 2021 at 18:00.
Since 2017, Luxembourg satellite operator SES has been working collaboratively with its customers, suppliers and competitors in the United States and with the Federal Communications Commission (FCC) to enable the clearing of a portion of the spectrum used for satellite services. This paved the way for FCC's largest spectrum auction ever in January 2021, yielding over $80 billion for the US Department of the Treasury while at the same time accelerating the roll-out of 5G in the US and creating value for satellite operators.
During the webinar, Christophe De Hauwer, Chief Development Officer of SES, will discuss this topic in more detail.
Mr De Hauwer has been with SES since 2003, holding several positions in the areas of Strategic Marketing, Strategic and Business Planning and Corporate Development, as well as Fleet Development and Yield Management. He played an instrumental role in the execution of key business transactions, namely the acquisition of New Skies in 2005, the GE share redemption in 2006 and the investments in O3b Networks from 2009 to 2013. Since 2017, Mr De Hauwer has been leading the SES US C-band spectrum monetisation. Prior to joining SES, he worked with Arthur Andersen. A Belgian national, he holds an Engineering and a PhD Degree from the Ecole Polytechnique of Brussels.
For further information and to register for this free webinar, visit www.amcham.lu/events/enabling-u-s-5g-through-satellite-spectrum-clearing.