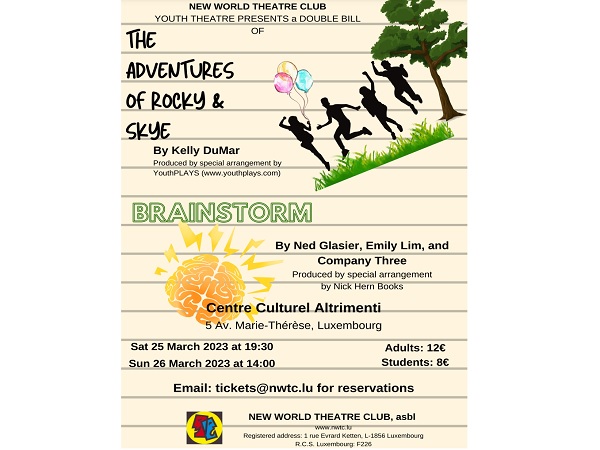 Credit: NWTC
New World Theatre Club (NWTC) asbl will present its "Youth Theatre Double Bill" at Centre Culturel Altrimenti in Luxembourg-Ville on Saturday 25 March 2023 at 19:30 and on Sunday 26 March 2023 at 14:00.
The Adventures of Rocky & Skye by Kelly DuMar follows four friends through their childhood in fifteen short, often humorous scenes. Brainstorm by Ned Glasier, Emily LIm and Company Three is a semi-devised piece that offers an immersive look at the adolescent brain. Through improvisation, writing and acting workshops, the participating children finalised the play, based on a "blue-print" of the script.
Both plays will be performed on both days with a fifteen to 20-minute intermission between them. They are open to audiences of all ages.
Tickets cost €12 for adults and €8 for students and are available via email: tickets@nwtc.lu.
Speaking to Chronicle.lu, NWTC Youth Theatre Director Christine Probst-Staffen shared that the mission of NWTC Youth Theatre, active since 2007, is to encourage "process over product". This means there is no guarantee of a production or performance at the end of the season (which runs from October to March/April). "It is always a work in progress," Christine explained. "Theatre is a living, breathing thing. The show you see on opening night is not the same you see on closing. Youth theatre is a great example of this and I am thankful to the 40 kids who have embraced these plays."
Regarding the choice of plays for the upcoming Youth Theatre Double Bill, Christine explained: "I chose the plays which I believed would best suit each group. I chose The Adventures of Rocky and Skye for the younger, more inexperienced group (ten to fourteen years) as it is a more traditional play and as such is an opportunity to explore character work in a group. There are only four characters in fifteen short scenes, so in a group of 20 the characters and character work is shared by everyone."
"I chose Brainstorm for the older and more experienced group (fourteen to nineteen) because I believed they were ready to delve into a different part of the theatre experience," she continued. "It is a semi-devised piece, which means we received a 'blue-print' to follow instead of a completed script. Through the workshops, they explored creating the scenes through various acting exercises, improvisation and writing exercises. The outcome is four months of hard work and creative teamwork."
"Though the two plays are very different, they both provide the opportunities to build life lessons of team work, active listening, communication skills, courage to stand on stage and speak in front of people, embracing failure (not all improvisations work!) and honouring commitments. These are some of the many gifts theatre gives us," Christine elaborated.
NWTC Youth Theatre has grown from an initial group of eleven participants, mostly from the European School, to over 40 participants from various schools across Luxembourg. This year, there are two groups of 20 participants. There is also a waiting list. All students aged ten to nineteen, who are proficient in the English language, are welcome to register. Places are awarded on a first-come, first-served basis, with preference given to existing members. Enrolment is open in September each year.
For its part, NWTC is an amateur club that has been active in Luxembourg for more than five decades. "We have successfully staged over 150 plays in English, ranging from comedy to drama, Shakespeare to Tennessee Williams, as well as workshops and play readings," explained Christine. "The club welcomes members of all nationalities, be they actors, directors or those who would rather be involved on the production side. New production ideas are encouraged and volunteers are always needed, regardless of experience."