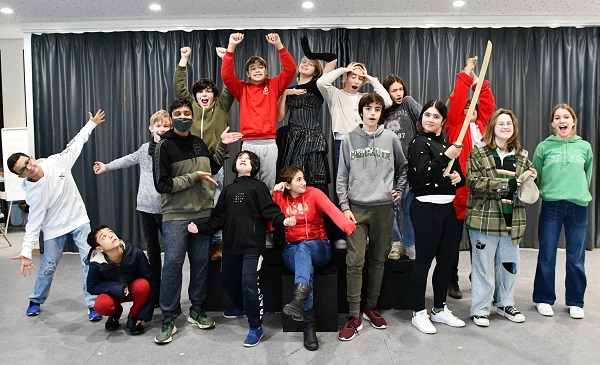 Credit: St George's International School Luxembourg
This week sees the launch of a new English-language theatre initiative in the Grand Duchy: the first Shakespeare Schools Festival Luxembourg will take place on Thursday 12 January 2023 at Neumünster Abbey in Luxembourg-Grund, from 18:00.
Chronicle.lu had the opportunity to sit down with Clare Williams, the drama teacher at St George's International School Luxembourg who initiated this festival, ahead of the big day.
Speaking about the idea behind the Shakespeare Schools Festival Luxembourg, Clare Williams explained how she had previously been involved in the Shakespeare Schools Festival whilst working in the United Kingdom (UK). Organised by the Shakespeare Schools Foundation, this youth drama festival brings together students from different schools to perform short adaptations of Shakespeare texts in various venues across the UK. When Ms Williams began working at St George's in Luxembourg, she took groups of students (initially a select few following auditions) in what became a year-group trip to the festival. For her, the best part of this experience was that her students "get to see other students performing the same sort of thing", adding that the "sharing of work and theatre, and the way in which they encourage the other kids, was amazing."
During the COVID-19 pandemic, such trips could not go ahead. Since then, getting students to the UK has become unaffordable, according to Clare Williams. One option would have been to ask parents to pay to send their children on the trip but then not everyone would be able to go. As Ms Williams noted, "I like the inclusivity of doing it with everyone." This inspired her to launch her own version of the festival in Luxembourg. Neumünster Abbey agreed to rent out the venue at a discounted price, and Ms Williams' colleagues at the International School of Luxembourg (ISL) and European School Kirchberg, Tony Kingston and Scott Macky, respectively, agreed to get involved in the festival. In total, there are about 60 participating students, including three groups from St George's (Year 8), two groups from ISL (similar age group to St George's) and one group from European School Kirchberg (older age group). Ms Williams noted that there had been a lot of support among St George's staff for the festival, as well as from other students and their parents (the latter will run a refreshment stand at the festival).
An important element of the Shakespeare Schools Festival Luxembourg is adjudication: a former student of Clare Williams, Kieran Donnelly, who is now a professional actor and an expert in Shakespeare, will watch all the performances and provide the participating students with verbal feedback the following day during a session organised at St George's auditorium. "Getting genuine critique by an actor who knows his stuff is really valuable, in terms of getting better at your craft," noted Ms Williams.
The teachers chose the specific plays, although "each group [of students] have got ownership over it", taking a lot of the decisions regarding the adaptations and making all the props themselves. As for the length and language of the adaptations, Ms Williams said: "They're very reduced and there's plenty of modern English thrown in between the original text, to bring it to life and make it accessible and fun for 12-13 year-olds." The hope is that this will help students to overcome the fear or lack of understanding associated with the works of Shakespeare.
Some students will also have the opportunity to try their hand at a different aspect of theatre, taking on the role of lighting and sound technician. "It's about the whole performance," emphasised Clare Williams, noting that it is not only about getting up on stage and acting. She added that it was also important for students to understand that things do not always run smoothly. "It's okay for mistakes to happen, as long as you know how to put it right, and how to get over that, because it does happen. […] Life goes on," she said.
Ms Williams praised the enthusiasm of the participating students, who will have the unique opportunity to perform on a professional stage. "It's going to be great in terms of expanding their understanding of theatre and the world, what things are like beyond the bubble of school," she stated, adding that the audience will be primarily made up of parents, who get "to see their children on stage, having the time of their lives, and growing in terms of confidence and creativity and problem-solving and all of those wonderful soft skills." The festival is also about helping students face the fear of getting up on stage and taking a risk, albeit "quite a safe risk, because the people watching you are people who love you."
Clare Williams expressed the hope that other local schools would get involved in the festival in future - should this become a more regular event. "It would be lovely to be able to get that connection with other schools," she said. However, for this first "trial" year, the idea was to keep it "small and manageable". Potential future editions will depend on how this first edition goes; if successful, it could become a biennial festival.
Tickets for the first Shakespeare Schools Festival Luxembourg are free but any donations made will go towards Ms William's project for alumni drama students: 13 Theatre, which helps former St George's students take a play to and/or perform at the Edinburgh Festival Fringe in Scotland. Last August, she took a group to the festival to perform her original play "The Names I've Known You By", which she wrote with former student Blagoj Naumov. The project thus helps former students wishing to pursue a career in theatre by giving them "a leg-up, something for the CV which is [...] quite unique and highly regarded." For next year, Ms Williams has "a nugget of an idea" for a play to develop and to work on with former students. Last summer was also an opportunity for her to perform on stage again. Whilst she generally prefers directing and writing, she believes it is important to perform every couple of years, to "put myself on stage, remind myself of how hard it is to get up on stage and remember your lines, and to act and to perform, because that's what I'm asking students to do." She concluded that 13 Theatre was her "way of continuing to support students even though they've left school"; she also praised St George's for its alumni support offer.
Programme (12 January 2023)
18:00: St George's - Hamlet; ISL - Romeo and Juliet
18:50: St George's - Romeo and Juliet; ISL - Macbeth
20:00: European School Kirchberg - Julius Caesar; St George's - Macbeth
Tickets (free) for the Shakespeare Schools Festival Luxembourg are still available from https://www.st-georges.lu/cf_eventReg/view.cfm?p=0&eventID=250&regOutputMode=register. To make a donation, visit https://www.st-georges.lu/cf_eventReg/view.cfm?p=0&eventID=259&regOutputMode=register.