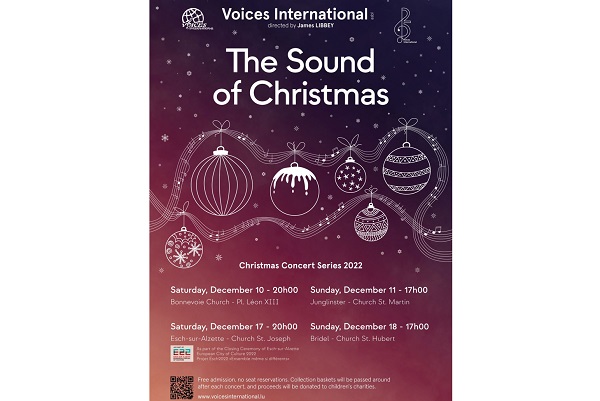 Voices International has announced that it is organising a series of Christmas concerts across Luxembourg next month.
This season, there are more than 30 different nationalities represented in the choir, which is singing songs from around the world.
"The Sound of Christmas" will take spectators on a diverse, multilingual and musical journey this festive period, with concerts scheduled as follows:
- Saturday 10 December 2022 @ 20:00 in Luxembourg-Bonnevoie (Bonnevoie Church, Place Léon XIII, 1929 Luxembourg);
- Sunday 11 December 2022 @ 17:00 in Junglinster (Church St Martin, 2 CR129, 6112 Junglinster);
- Saturday 17 December 2022 @ 20:00 in Esch-sur-Alzette (Church St Joseph, 12 Rue de l'Église, 4106 Esch-sur-Alzette) - this concert forms part of the closing ceremony of the Esch2022 - European Capital of Culture project "Ensemble même si différents" (together even if different);
- Sunday 18 December 2022 @ 17:00 in Bridel (Church St Hubert, Rue Nicolas Goerdert, 8141 Bridel/Kopstal).
Free admission, no seat reservations. Collection baskets will be passed around following each concert, with proceeds to be donated to children's charities.
For more information, visit the website: www.voicesinternational.lu.