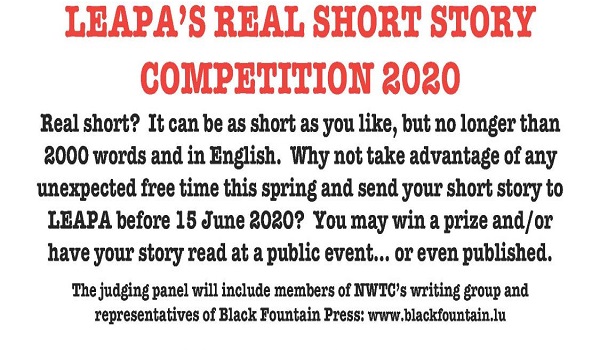 The Luxembourg European Association of Performing Arts (LEAPA) has announced its decision to postpone this year's Murder Mystery dinner indefinitely due to the COVID-19 (coronavirus) pandemic; the organisation also announced that it is launching a short story competition.
Like most organisations, LEAPA has had to indefinitely postpone a number of its events due to the current lockdown, including its annual highlight, the Murder Mystery Dinner, usually held in May. The organisation plans to resume its schedule once the current situation has normalised.
In the meantime, LEAPA has come up with another way of keeping the public busy during this period of confinement with the launch of its Real Short Story Competition 2020.
Short story submissions must be written in English and be no longer than 2,000 words. The deadline for submission is 15 June 2020. There is a maximum of five entries per person.
To ensure anonymity, entries must be submitted on paper; they should be placed in an outer envelope and sent to LEAPA (before the deadline) at LEAPA, 4 Rue NS Pierret, L-2335 Luxembourg. A second, sealed envelope containing all contact details should be placed inside the first envelope. The title of the short story or stories must be marked on the outside of this second envelope, which will be opened only after entries have been voted on by the jury.
The judging panel will include members of the Luxembourg-based New World Theatre Club's (NWTC) writing group and representatives of the publishing house Black Fountain Press. Winners may receive a prize and/or have their story read at a public event (or even get published).
There is no charge for LEAPA members but non-members are asked to pay €3 for the first entry and an additional €1 increment for each subsequent entry. The relevant amount should be sent via bank transfer to the LEAPA account (BCEE) LU98 0019 4255 8932 5000.
Further details are available via email: info@leapa.eu and online at www.leapa.eu.