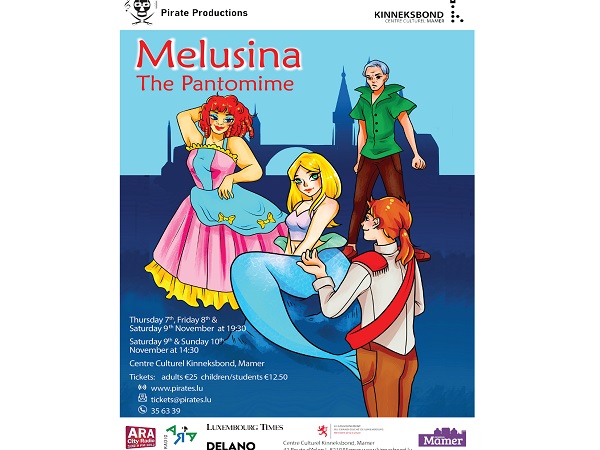 Pirate Productions has announced that it is putting on "Melusina The Pantomime" from Thursday 7 November to Sunday 10 November 2019 at Kinneksbond (42 Route d'Arlon, L-8210 Mamer) in Mamer, in south-western Luxembourg.
This is a musical comedy in the traditional British pantomime style, suitable for all the family with jokes for both adults and children, plenty of song and dance and a cast of colourful characters. This time the story is based on the Luxembourg legend of Melusina, with an original script by Rachel Parker.
Melusina is a half-human, half-water spirit, who starts life under a mysterious curse that gives her a fishtail once a week. She falls in love with the nobleman Count Siggy, but the curse catches up with her and she vanishes into the dark. The Count and friends have to find her and the search takes in many characters - good and bad spirits, villains from foreign lands, witches and ghosts as well as a troupe of female builders and willing but foolish little yellow helpers, among others. Will they find Melusina? And even if they do, will they be able to solve the riddle and rescue her?
Performances will take place on Thursday 7 November and Friday 8 November at 19:30, on Saturday 9 November at 14:30 and at 19:30 and on Sunday 10 November at 14:30.
Tickets cost €25 for adults or €12.50 for students and children (show recommended for children over 5 years old). For further information and to book tickets, visit https://www.pirateproductions.lu/Public/CurrentShow.php?MemNum=, send an e-mail to tickets@pirates.lu or tel. 356-339.