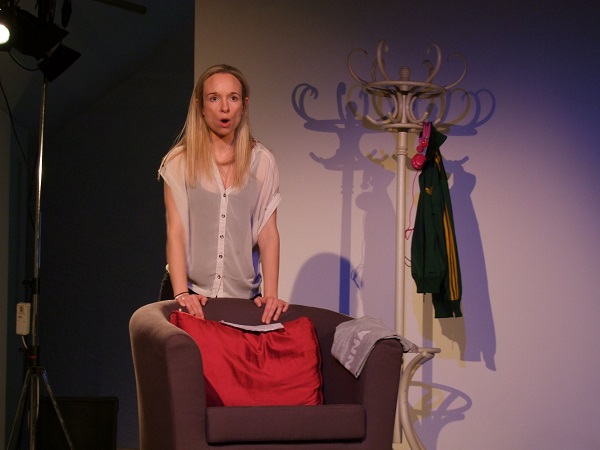 The New World Theatre Club (NWTC) in Luxembourg is currently putting on a production of Finding Sophie, by Janice Dunn, this week at the Annexes of the Chateau de Bourglinster, with four performances in total.
Written by Janice Dunn, the 40-minute drama features Danish actress Maria Lohmann on stage, play a variety of roles associated with the disappearance of teenager Sophie. while many one-person plays can be difficult at times for the audience to follow, this is not the case here. The set is on a raised stage in front of a 50-seat audience, with different zones for different scenes. Maria quickly changes costume, and hairstyle and voice/accent too, in leaving one character behind and evolving into another, leaving the audience in no doubt which character she is now portraying, from the mother, policewoman and friend of Sophie.
Maria shows her dexterity in assuming different characters with ease in a play that is more about emotions, of anguish, despair and torment that engulf parents, police and friends when a child goes missing. Suspicions are aroused, accusations are made and one thinks terrible thoughts. And that is what happens in Finding Sophie. While there are threads to this story which draw parallels with the Madeline McCann case, this story is not specifically about that case.
Sophie's mother waits by the phone to hear from her daughter who went into town one evening, never to be seen or heard of again. So what happened to her? The drama brings the audience on an emotional journey ten days later, involving various characters from a schoolteacher to a policewoman and friends, trying to put together the pieces of the jigsaw.
The production is well supported by the soundtrack and other multi-media devices. It is not just containing dialogue, the is based on the expression of emotion.
After the play, Janice and Maria discuss aspects relating to the play with the audience, and reveal that in the UK alone, two thousand people completely disappear without trace each year. They also explain that of all the people reported missing to the police, most are located within a week.
Performances:
- Thu 21 Jan @ 14:00 & 20:00
- Fri 22 Jan @ 20:00
- Sat 23 Jan @ 20:00
Note: The play contains strong language. Suitable for all ages from 14 years upwards. The play itself runs for approximately 50 minutes and will be followed with a discussion session with Janice and Maria about how they approach issues when writing and staging a play with difficult subject matters such as this.
Tickets €15 (members €13; students €8), available from email: tickets@nwtc.lu or tel: 356339.
Photo by Geoff Thompson