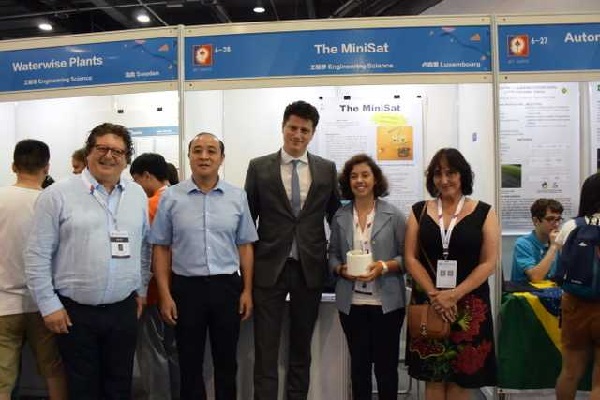 Carlo Hansen, Qian Cheng of the CASTIC organisation, Luc Decker, Catarina Nunes, Simone Thill, Founding member; Credit: FJSL - Fondation Jeunes Scientifiques Luxembourg
A young Luxembourgish scientist has won third prize at the international competition CASTIC (China Adolescents' Science and Technology Innovation Contest).
Held this year from 14 to 20 August in China, the CASTIC is the largest pre-university science contest in Asia, bringing together nearly 1000 participants, all aged between 13 and 18 years.
Catarina Nunes, who represented Luxembourg, came third place in the competition among the 18 participating countries.
The young scientist from Luxembourg had qualified for the CASTIC competition in April 2017, when she participated in, and won, the Jonk Fuerscher National Competition. Having convinced the jury of her "MiniSat" project, Nunes had the opportunity to present her plans in China for an innovative meteorological satellite, one which is smaller and cheaper than current satellites thanks to its accessibility and open technology.
At CASTIC, she had the opportunity to present her project to the Vice-President of the People's Republic of China, Li Yuanchao, who congratulated her on her work and was received by the Consul General of Luxembourg in Shanghai, Luc Decker.
Previously, Catarina Nunes won a bronze medal at the Dutch competition INESPO.