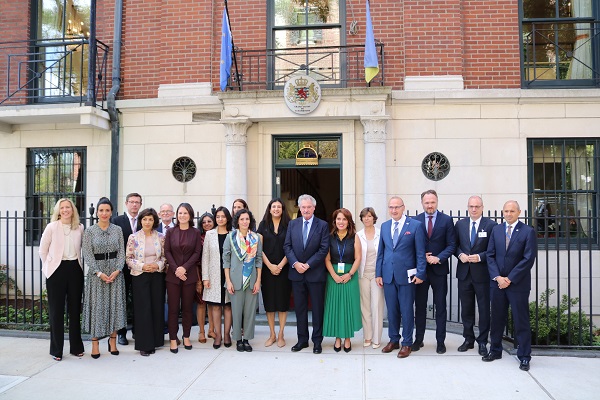 Credit: MAEE
On Tuesday 19 September 2023, Luxembourg's Minister of Foreign and European Affairs, Jean Asselborn, co-hosted a ministerial meeting in New York on the human rights situation of women and girls in Afghanistan.
On the sidelines of the high-level week of the 78th session of the United Nations General Assembly (UNGA 78) in New York, Minister Asselborn and the Global Centre for the Responsibility to Protect organised a ministerial meeting addressing systematic gender-based discrimination against women and girls in Afghanistan.
The meeting was held at the Permanent Mission of Luxembourg to the United Nations, with the participation of several other foreign ministers (including those of Germany, Belgium and France) and representatives of civil society.
According to Luxembourg's Ministry of Foreign and European Affairs, the objective of this ministerial meeting was to discuss the discriminatory policies systematically implemented by the Taliban and to seek avenues of international cooperation to alleviate the suffering of Afghan women and girls.
Luxembourg's Foreign Minister opened the meeting by recalling that women and girls in Afghanistan suffer atrocities daily. He added that the de facto authorities in Afghanistan have a responsibility to guarantee the country's commitments made under international treaties, such as the Convention on the Elimination of All Forms of Discrimination Against Women.
During the ministerial meeting, several Afghan women testified about the persecution they face on the ground, at all levels. They also gave their assessment of the possibilities of holding the Taliban accountable before the International Court of Justice or the International Criminal Court.
During the discussion, the ministers stressed that the international community must evaluate all means at its disposal to ensure that the grievances of Afghan women and girls are not forgotten. The Special Rapporteur on the situation of human rights in Afghanistan, Richard Bennett, who came from Geneva to attend the meeting, noted that a climate of impunity prevails in Afghanistan and that that it is necessary to put an end to it to avoid a complete erosion of human rights.
The ministers present on this occasion adopted a joint declaration on combating systematic discrimination against women and girls in Afghanistan, on behalf of their respective countries (Albania, Germany, Belgium, Cape Verde, Costa Rica, Croatia, Denmark, Spain, France, Liechtenstein, Luxembourg and Malta).