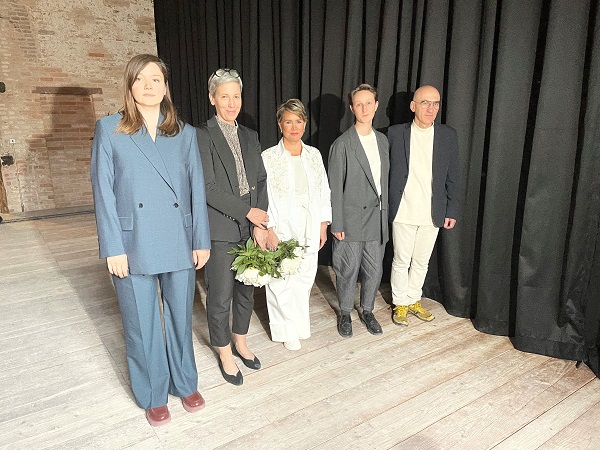 (L-R) Marija Marić; Sam Tanson, Luxembourg's Minister of Culture; HRH Grand Duchess Maria Teresa of Luxembourg; Francelle Cane; n/a; Credit: MCULT
The inauguration of the Luxembourg pavilion of the 18th International Architecture Exhibition in Venice took place on Thursday 18 May 2023, in the presence of Her Royal Highness the Grand Duchess of Luxembourg, the Minister of Culture, Sam Tanson, and Luxembourg's Ambassador in Rome, Michèle Pranchere-Tomassini.
As Luxembourg's Ministry of Culture reported, the "Down to Earth" exhibition marks Luxembourg's tenth participation in the Venice Biennale of Architecture, which takes place this year under the theme "The Laboratory of the Future".
Conceived by curators Francelle Cane and Marija Marić, "Down to Earth" offers a critical analysis of space mining through the prism of resources. Based on this are interrogations centred on the relationship between the logic of capitalism and its environmental and social effects, the privatisation of space, as well as the role of the architect as a critical mediator around the ramifications of these material fictions, anchored in the paradigms of current growth, noted the ministry.
In her speech, Minister Tanson congratulated the curators and commissioners for having succeeded in inviting visitors to their exhibition to engage in a reflection on the impact left by humans on the territories they intend to appropriate, whether terrestrial or spatial.
For this edition, the Ministry of Culture has delegated the curating of the Luxembourg pavilion to Kultur | lx – Arts Council Luxembourg, in collaboration with the luca – Luxembourg Center for Architecture.
The 18th Venice Biennale of Architecture is taking place from 20 May to 26 November 2023. The Luxembourg pavilion will be on view in the Arsenale (Sale d'Armi, first floor). Further information is available online at https://venicebiennale.kulturlx.lu/.