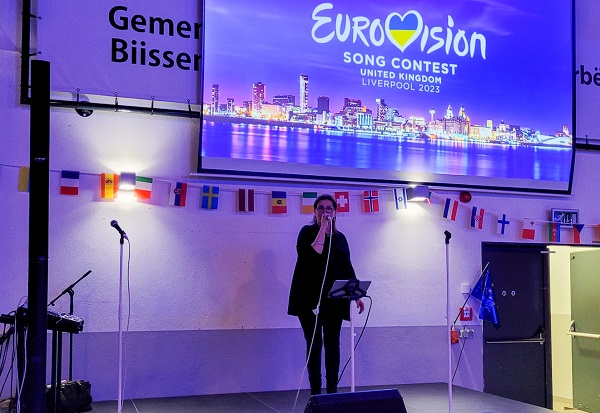 Marion Welter, who represented Luxembourg at Eurovision in 1992, performs at the OGAE Luxembourg Eurovision Preview Night in Bissen on 21 April 2023; Credit: Jazmin Campbell/Chronicle.lu
After a 30-year absence, Luxembourg is set to return to the Eurovision Song Contest in 2024.
The news came just ahead of this year's Eurovision final, which is taking place in Liverpool in the United Kingdom on Saturday 13 May 2023.
The Department of Media, Connectivity and Digital Policy of Luxembourg's Ministry of State and RTL Luxembourg, respectively, announced the news on Friday 12 May 2023. In a press release, the former officially announced the Luxembourg Government's support for the participation of a candidate representing the Grand Duchy at Eurovision next year.
Three decades have passed since Luxembourg last participated in the Eurovision Song Contest (in 1993) and it has been 40 years since the country's last Eurovision victory (in 1983). The Grand Duchy has participated in the contest 37 times, having been absent just once (1959) between the first contest in 1956 and the 1993 edition.
Luxembourg has won Eurovision five times: in 1961, with Jean-Claude Pascal's "Nous les amoureux"; in 1965, with France Gall's "Poupée de cire, poupée de son"; in 1972, with Vicky Leandros' "Après toi"; in 1973, with Anne-Marie David's "Tu te reconnaîtras"; in 1983, with Corinne Hermes' "Si la vie est cadeau".
In 1993, the last edition in which it participated, the Grand Duchy was represented by Modern Times whose song "Donne-moi une chance" placed 20th overall, with just eleven points. This low placement led to the Grand Duchy being relegated the following year, within the framework of new rules set by the European Broadcasting Union (EBU). Unlike the other relegated countries in 1994, Luxembourg would not return to the contest for at least 30 years. Financial restraints were among the main reasons cited for its long absence.
In addition to confirming its support for Luxembourg's participation in Eurovision 2024, the Government Council on Friday approved the necessary financial support for the participation of a Luxembourg delegation in the contest.
The Luxembourg Government described this Eurovision comeback as "an excellent opportunity to reaffirm the Grand Duchy's European and international spirit in the media and musical field", adding that participation in the contest will also help promote Luxembourg "as a destination", as well as "its values and its brand image".
National broadcaster CLT-UFA (RTL Luxembourg), which is a member of EBU, will be responsible for the broadcasting, the selection of the candidate(s) representing Luxembourg and the participation of the Luxembourg delegation at Eurovision next year, with a related agreement between the government and CLT-UFA in the pipeline.
Details about the application and selection process for Luxembourg candidate(s) are expected to be announced in July 2023.