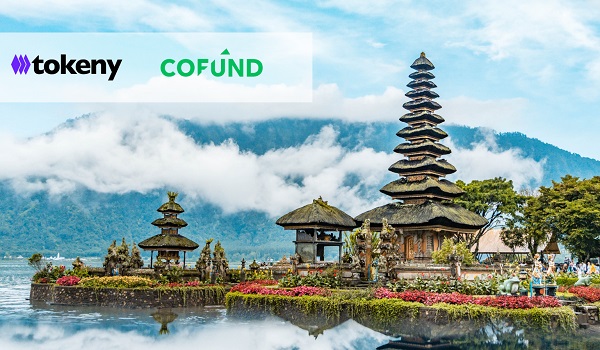 Credit: Tokeny/CoFund
CoFund, a pioneering marketplace in the field of real estate tokenisation, has announced its partnership with Tokeny, a leading tokenisation platform based in Luxembourg.
The collaboration will enable CoFund to leverage Tokeny's innovative platform to bring institutional-grade real estate assets to the masses, issuing ERC3643 security tokens on the Polygon network.
CoFund is on a mission to establish itself as a premier marketplace for real estate tokenisation by enabling a global investor base to invest in top-tier real estate assets, earn passive income and engage in secure peer-to-peer trading on the blockchain.
CoFund's flagship offering is a luxurious hotel situated in the heart of Bali, where investors can participate with as little as $1,000. According to CoFund and Tokeny, despite Bali's thriving tourism industry, investment opportunities in this sector have been inaccessible to many. Through tokenisation, the aim is that individuals worldwide are able to participate in this flourishing industry.
CoFund's primary focus is currently directed towards Bali. However, the company has plans to expand to other regions worldwide, enabling a greater number of investors to access a wider range of real estate investment opportunities.
By partnering with Tokeny, CoFund has leveraged its software as a service (SaaS) tokenisation solution to easily issue and manage security tokens, enabling fully auditable and immutable cap tables on the blockchain and providing investors with direct ownership and transparency. Moreover, CoFund is able to conduct real-time operations such as distributing and recovering tokens to investors.
CoFund CEO Giri Kayogiswara voiced his excitement: "Our ultimate goal at CoFund has always been to democratise real estate investment by making it accessible and profitable for everyone. With Tokeny's proven platform, we can create a secure and accessible real estate investment market that meets the needs of all types of investors while ensuring compliance. This collaboration takes us one step closer to realising our vision of a global real estate investment market that's open to all and we are extremely excited in starting our journey with the amazing island of Bali."
Tokeny CEO Luc Falempin added: "We are thrilled to be working with CoFund to help upgrade the real estate investment market. With the tokenisation market accelerating, serious projects like CoFund are realising that simple ERC20 tokens and NFTs don't meet compliance needs. Our technology platform leverages the ERC3643 token standard to ensure our partners can enforce compliance, even on a permissionless blockchain. CoFund's real estate expertise and our technical capabilities make for a powerful combination, bringing accessibility to real estate investment."