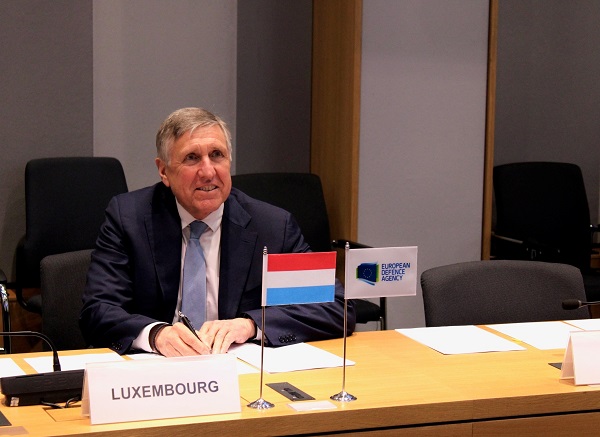 François Bausch, Luxembourg's Deputy Prime Minister and Minister of Defence; Credit: MAEE
On Monday 20 March 2023, Luxembourg's Deputy Prime Minister and Minister of Defence, François Bausch, together with the Minister of Foreign and European Affairs, Jean Asselborn, took part in the Foreign Affairs Council of the European Union (EU) in Brussels, Belgium.
On Monday afternoon, EU Defence Ministers joined the Foreign Ministers to discuss EU military support to Ukraine. The ministers approved the proposal of the European External Action Service (EEAS), consisting of three parallel tracks, namely: the immediate transfer of arms and ammunition from existing stocks or current orders from Member States and reimbursement through the European Peace Facility (EPF), sending large joint orders to the European defence industry by consolidating acquisitions and the ramp-up of European industrial capacity to meet current and future demand. The first two tracks will be financed via a levy of €1 billion each from the first €2 billion "top-up" of the EPF, approved at the end of 2022.
"Luxembourg fully supports the parallel three-track approach, with the use of the EPF, to supply the necessary artillery shells to Ukraine," stated Minister Bausch, adding: "It remains important that we continue to support Ukraine in the short, medium and long term and that we give ourselves the means to fill our national stocks and that in a coordinated and rapid way!"
The Foreign Affairs Council also reached a political agreement to allocate a second top-up of €3.5 billion to the EPF, raising the overall budget to €11 billion. This agreement will require the approval of the heads of state and government at the next meeting of the European Council.
In this context, and on the sidelines of the Foreign Affairs Council, Minister Bausch signed the Collaborative Procurement of Ammunition (CPoA) project, with the objective of supporting contributing members in their efforts to acquire ammunition.
The ministers also took stock of the EU's strategic compass, one year after its adoption.
On the evenings of Monday 20 and Tuesday 21 March 2023, Minister Bausch took part in the first edition of the Schuman Security and Defence Forum, bringing together the Defence Ministers of the 27 EU Member States and 45 partner countries, as well as international and regional organisations with which the EU cooperates on security and defence.