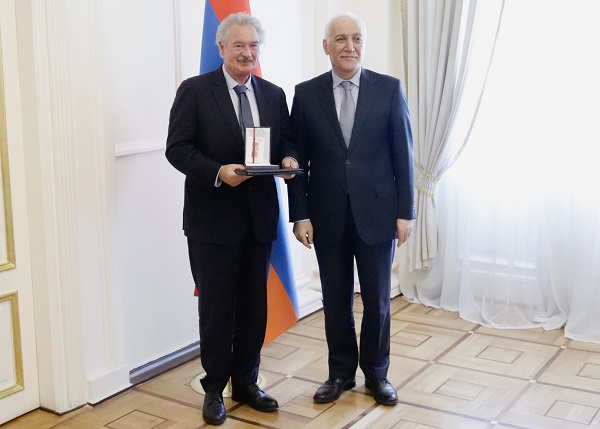 L-R: Jean Asselborn, Luxembourg's Minister of Foreign and European Affairs; Vahagn Khachaturyan, President of Armenia; Credit: MAEE
During a working visit to Armenia on Wednesday 22 and Thursday 23 February 2023, Luxembourg's Minister of Foreign and European Affairs, Jean Asselborn, announced that the Grand Duchy would appoint a non-resident ambassador to Armenia.
In Yerevan, Minister Asselborn was received in audience by the President of Armenia, Vahagn Khachaturyan, and had bilateral meetings with Prime Minister Nikol Pashinyan, as well as Armenia's Minister of Foreign Affairs, Ararat Mirzoyan, the President of the National Assembly of Armenia, Alen Simonyan, and the Secretary of the Security Council of Armenia, Armen Grigoryan.
In the context of further strengthening bilateral relations (particularly in the political, economic and cultural domains), Minister Asselborn informed his Armenian interlocutors of Luxembourg's decision to establish a non-resident diplomatic representation to Armenia, by accrediting a non-resident ambassador.
The latest regional and international developments were also on the agenda, including Russia's war of aggression against Ukraine, launched by President Vladimir Putin one year ago, and the situation in Nagorno-Karabakh. Luxembourg's Foreign Minister expressed deep concern about the worrying humanitarian situation in the region, caused by the blockade of the Lachin corridor. He reiterated his call on the Azerbaijani authorities to lift the blockade of the corridor and ensure freedom of movement in both directions.
Minister Asselborn also highlighted Luxembourg's full support for the establishment of a European Union mission in Armenia (EUMA), the launch of which was decided at the last Foreign Affairs Council. The objective of the mission is to contribute to reducing the number of incidents in the conflict zones and the border areas of Armenia, to reduce the level of risk for the population living there and thus to contribute to the normalisation of relations between Armenia and Azerbaijan.
Minister Asselborn and his interlocutors also discussed the Russian war against Ukraine. The former emphasised the importance of not allowing the circumvention of sanctions, which aim to deprive the Russian regime of the means to continue this war of aggression and thus to convince Moscow to put an end to it.
Luxembourg's Foreign Minister also took the opportunity of his visit to meet and exchange with members of Armenian civil society, in particular NGOs active in the field of human rights and democracy as well as some EU Young Ambassadors. These exchanges addressed issues related to the rule of law, human rights and gender equality in Armenia.
Moreover, Minister Asselborn visited the Tsitsernakaberd Memorial to pay tribute to the victims of the Armenian Genocide.
Finally, Armenian President Vahagn Khachaturyan decorated Minister Asselborn with the Mkhitar Gosh Medal, Armenia's highest honorary decoration. "It's proof of the friendship that binds our two countries," commented Minister Asselborn.