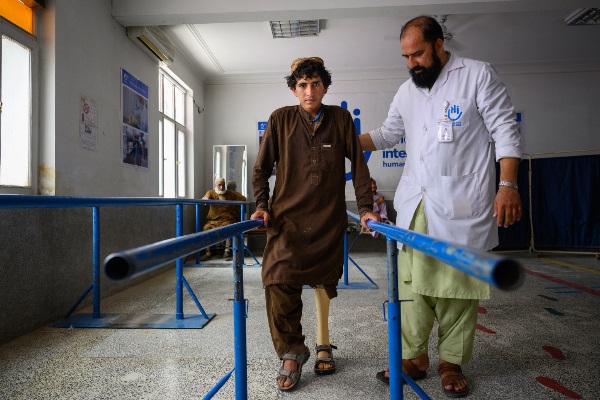 16-year-old Massoud receives his first prosthesis, accompanied by Aziz Ahmad, physiotherapist, at the HI rehabilitation centre in Kandahar, southern Afghanistan, in August 2022; Credit: E Blanchard/HI
Luxembourg's Ministry of Foreign and European Affairs recently renewed its sixth framework agreement with Handicap International (HI) Luxembourg, with an approved budget of €18.75 million for 2023 to 2027.
During this period, the ministry will contribute €15 million whilst HI will provide the remaining €3.75 million for the "Rehabilitation, education and access to livelihoods for an inclusive society" agreement. For the first time, Afghanistan has been included in the list of sixteen beneficiary countries of the agreement.
HI has been active in Afghanistan since 1987 and maintains its presence there today despite the challenging political context following the Taliban takeover in August 2021. The NGO did temporarily suspend its operations after the Taliban announced that women could no longer work with NGOs; activities have since resumed following guarantees from the government.
According to HI, the inclusion of Afghanistan in this new framework agreement will allow the NGO to go beyond the humanitarian emergency, planning its rehabilitation activities, accompanied by psycho-social support and socio-economic integration, in the country.
Eric Weerts, a Brussels-based HI rehabilitation specialist who recently returned from a mission in Afghanistan, told Chronicle.lu more about these activities. A trained physiotherapist, Eric has been working for HI since 1991. Over the years, he has helped set up physiotherapy departments and trauma centres, as well as specific care systems for severely injured people. He also helps train physiotherapists and other professionals in this field and works on impact studies which look at how rehabilitation programmes make a difference in the lives of those affected and their families.
In August 2021, Eric and many others were evacuated from Afghanistan. During the transition period that followed, HI tried to continue operating as before. However, the international community had stopped the "financial lifeline" (funding) to Afghanistan and so HI had to reconsider how to continue their programmes exclusively through humanitarian assistance; Eric stressed, however, that such assistance can "never replace a functioning government". He noted that new challenges had emerged, such as malnutrition and the (potential) collapse of certain areas of the healthcare system, including trauma care. In response, HI established "step-down" units to provide relief to people who are discharged from a trauma ward after a serious accident, offering them psychological services and physiotherapy, among other services. HI also works with mobile teams of professionals who try to identify people in need in the community and provide them with direct assistance and advice.
Eric emphasised the need for political stability to ensure the mid- and long-term sustainability of HI's activities. He noted that the NGO now has over 420 Afghan employees, many of whom are women, providing direct services across the country. Concerning the Taliban's announcement that women could no longer work for NGOs, Eric emphasised that "humanitarian assistance in Afghanistan is not possible if women are not allowed to work as before". Another representative of HI added that whilst the NGO condemns the ban on women working with NGOs, HI is apolitical and has only one goal: to help the beneficiaries, i.e. the most vulnerable.
In addition to local employees, there are about six HI experts from abroad (including Eric) who undertake missions in Afghanistan. Eric's most recent mission, at the end of January, lasted about two weeks and saw him determine which activities had resumed following the aforementioned declaration and subsequent temporary suspension of activities. He noted that most of the rehabilitation services have since resumed, including at the HI-run rehabilitation centre in Kandahar, in the south of Afghanistan. Economic challenges persist, however, for the Afghan people, many of whom can no longer afford health services. Eric added that winter was particularly harsh in Afghanistan this year and the most vulnerable (including injured and disabled people) have been most affected.
Eric confirmed that the funding from Luxembourg's Foreign Ministry will contribute to sustainability exercises, allowing HI to calculate the costs of training and services over the next few years.
The other beneficiary countries included in this new framework agreement are: Burkina Faso, Mali, Niger, Senegal, Ethiopia, Rwanda, the Democratic Republic of the Congo, Madagascar, Bangladesh (also included for the first time), Cambodia, Laos, Nepal, Myanmar, Palestine and Haiti.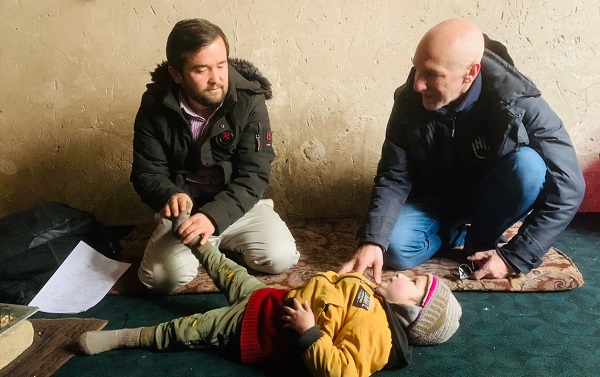 Eric Weerts (far right) pictured during his recent mission in Afghanistan (Credit: HI)