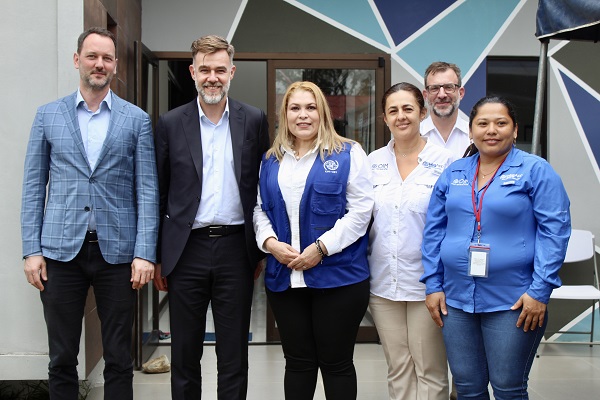 L-R: Christophe Schiltz, Development Cooperation & Humanitarian Affairs Director; Franz Fayot, Development Cooperation Minister; Paola Zepeda, OIM regional coordinator; N/A; Manuel Tonnar, LuxDev Director General; Credit: MAEE
Luxembourg is set to open an embassy and a Lux-Development (LuxDev) office in Costa Rica, as part of the implementation of the Grand Duchy's new development cooperation strategy in Central America.
From 23 to 27 January 2023, Luxembourg's Minister for Development Cooperation and Humanitarian Affairs, Franz Fayot, paid a working visit to Costa Rica. This visit was part of Luxembourg's new strategic approach to development cooperation with the region and the countries of Central America.
According to the Directorate for Development Cooperation and Humanitarian Affairs, it aims to strengthen the impact and identity of Luxembourg's cooperation, notably through regional and multi-partner interventions and will be complemented by the implementation of bilateral development cooperation projects in Costa Rica, where Luxembourg intends to establish a diplomatic mission and a LuxDev office.
In this context, Minister Fayot signed a memorandum of understanding with Arnoldo André Tinoco, Minister of Foreign Affairs and Worship of Costa Rica, which formalises bilateral cooperation relations between the two countries, as well as the priority themes on which cooperation will focus. Luxembourg and Costa Rica have committed to cooperating in the areas of the socio-economic integration of women and young people, climate resilience and environmental sustainability, and social cohesion and human rights, including those of the migrant population. These priority areas of intervention will be supported and guided by two cross-cutting themes, namely inclusive and innovative finance, and digitalisation and cybersecurity.
Minister Fayot also participated in the launch of two initiatives supported by Luxembourg's development cooperation programme, including a pilot project on inclusive finance implemented by the Alliance for Financial Inclusion (AFI). This project aims to develop financial inclusion strategies and promote knowledge sharing in this field in Latin America and the Caribbean.
Minister Fayot also launched the second phase of a regional project implemented by the International Organization for Migration (IOM), which aims to support migrant women in Central America to address the many challenges they face, such as gender-based violence and the effects of climate change.
The trip also gave rise to a number of visits to other projects already supported by Luxembourg's development cooperation programme in Costa Rica as part of its regional interventions. Minister Fayot met with representatives of the Fundación Unión y Desarrollo de las Comunidades Campesinas (FUNDECOCA), the Fundación Fundecor, the Movimiento Campesino and the Regional Centre for the Promotion of Micro, Small and Medium-sized Enterprises (CENPROMYPE).
In San José, Minister Fayot also held bilateral meetings with Carlos Alvarado Briceño, Minister of Science, Innovation, Technology and Telecommunications, Manuel Tovar, Minister of Foreign Trade, Anna Katharina Müller Castro, Minister of Public Education, and Rafael Gutiérrez Rojas, Deputy Minister of the Environment. Discussions focused on how Luxembourg's cooperation activities could best contribute to Costa Rica's development and public investment priorities.