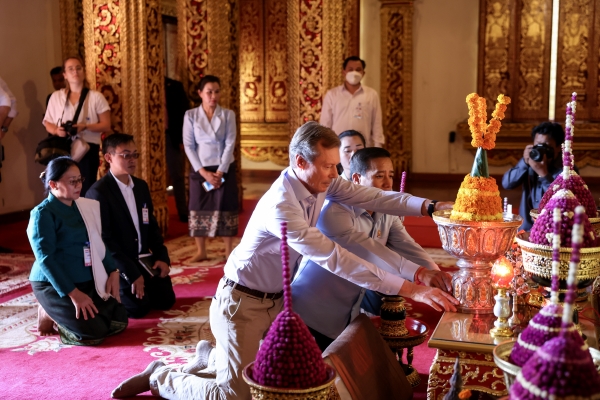 Credit: Maison du Grand-Duc / Sophie Margue
The working visit of His Royal Highness the Grand Duke and Luxembourg's Minister for Development Cooperation and Humanitarian Affairs, Franz Fayot, to Laos concluded on Thursday 8 December 2022.
The programme for the last two days included a visit to Luxembourg development cooperation projects in the localities of Phonhong and Vang Vieng, as well as a cultural visit to the city of Luang Prabang.
On Wednesday 7 December 2022, Grand Duke Henri and Minister Fayot travelled to Phonhong to visit the Maria Teresa Hospital and the nursing school attached to it. The provincial hospital, which was built with the support of Luxembourg, is recognised for the quality of its health services for the local population, including the most vulnerable. Inaugurated by Her Royal Highness the Grand Duchess in 2003 and bearing her name ever since, it is considered one of the main successes of Luxembourg development cooperation in Laos.
In Vang Vieng, Grand Duke Henri and Minister Fayot visited, in the presence of the governor of Vientiane province, the Khamphane Sitthidampa Academy, a hotel training centre with an application restaurant and six hotel rooms. Supported by Luxembourg's development cooperation programme with the aim of improving the skills and quality of vocational education in the field of tourism and hospitality in Laos, the facility offers students practical training opportunities alongside their theoretical studies. At the invitation of the governor of the province of Vientiane, the Grand Duke and Minister Fayot took part in a lunch prepared by the students of the Academy.
Back in Vientiane, the Grand Duke and Minister Fayot visited the offices of the Luxembourg Embassy in Laos, and this was followed by a presentation of local development programmes by representatives of Lux-Development.
On the last day of the working visit, on Thursday 8 December 2022, Grand Duke Henri and Minister Fayot visited the Royal Palace in Luang Prabang, the most important cultural site of Laos in Luang Prabang region, and Wat Xieng Thong, a Laotian Buddhist temple dating from 1560, now transformed into a museum as well as the Visitor Centre of the National Unexploded Ordnance Programme (UXO). Luxembourg has been financially supporting the elimination of UXO in Laos since 1999, with a contribution of approximately €4 million and recently granted additional support of up to €1 million for the period 2022-2024. Within the framework of the 5th Indicative Cooperation Programme (2023-2027), it is also planned to expand the development projects of the tourism and hotel sector in Luang Prabang.
In Luang Prabang, the Grand Duke and Minister Fayot also took part in a Baci ceremony, a traditional Laotian practice, as well as a dinner hosted by the governor of Luang Prabang province, Khamkhan Chanthavisouk.