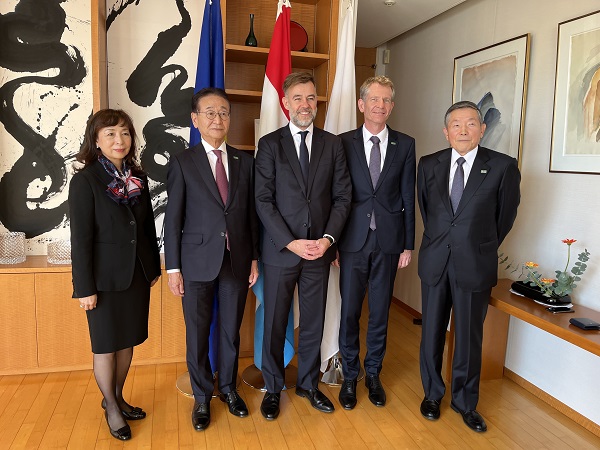 L-R: Takayo Egawa, JCR Pharmaceuticals; Shin Ashida, JCR Pharmaceuticals; Franz Fayot, Luxembourg's Minister of the Economy; Dr. Mathias Schmidt, JCR USA, JCR Luxembourg SA; Takashi Suetsuna, JCR Pharmaceuticals; Credit: LTIO Tokyo
Luxembourg's Ministry of the Economy has confirmed that the Japanese pharmaceutical company JCR will set up its European logistics platform for the distribution of its products in the Grand Duchy.
JCR Pharmaceuticals is a pharmaceutical company specialising in the research, manufacture and sale of pharmaceutical products for the treatment of rare and genetic diseases. As part of his working visit to Japan, Luxembourg's Minister of the Economy, Franz Fayot, concluded an agreement on Friday 2 December 2022 in Tokyo with JCR Pharmaceuticals to establish the company's European logistics platform in Luxembourg.
The first contacts between Luxembourg and JCR Pharmaceuticals date to 2017 and the Japanese company has now decided to build a logistics platform in Luxembourg on a plot of more than 10,000 m2 in the Wolser economic activity zone between Bettembourg and Dudelange for the packaging, labelling and shipping of JCR's experimental and commercial products across Europe and beyond. Listed on the stock exchange, JCR Pharmaceuticals employs a total of nearly 800 people. The company is also active in the United States (US), Europe, Asia and Latin America.
During the signing ceremony of the agreement, Minister Fayot said: "The JCR project in Luxembourg underlines the attractiveness of Luxembourg as a strategic hub allowing international companies to access the European market and beyond. With the JCR project, we are strengthening two of our strategic sectors to diversify our economy: health technologies and logistics. The activities that will be developed by JCR will complement the existing activities of LuxairCARGO's Logistics Pharma Hub. Our agreement with JCR will strengthen our position as a supportive ecosystem for a resilient pharmaceutical supply chain".
"I am honoured to enter into this agreement with Luxembourg", said Shin Ashida, President and CEO of JCR. "We have been in discussions with Luxembourg in view of the global strategic expansion of JCR for several years. To adapt to the changing environment of the pharmaceutical industry, a phased approach was reasonable, such as the creation of a European packaging, labelling and logistics centre for the worldwide distribution of our experimental and commercial products beyond Japan. This agreement reflects Luxembourg's generous understanding and cooperation and is essential for JCR in its global expansion".