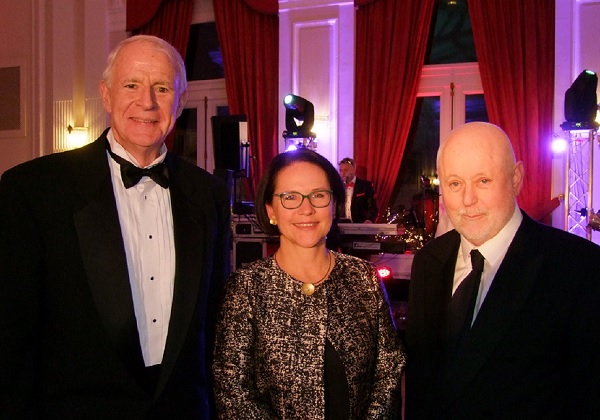 (L-R): US Ambassaror Tom Barrett; Minister Yuriko Backes; Paul Schonenberg, AMCHAM Chairman, at AMCHAM Thanksgiving event on 25 November 2022; Credit: Chronicle.lu
Following her attendance and address at Friday evening's AMCHAM Thanksgiving Gala Dinner at the Cercle Citö, Luxembourg's Finance Minister, Yuriko Backes, is in New York and Toronto from today, 28 November to Friday 2 December 2022 as part of a financial mission.
In New York, the Minister will have meetings with leaders of the main American players present in Luxembourg to take stock of their activities in the Grand Duchy and to discuss the latest economic and financial developments as well as the opportunities that arise for these players in Europe. She will also take part in a reception organised by Luxembourg for Finance at Luxembourg House for New York financial sector professionals.
The Minister will also have a meeting with Anita Bhatia, Deputy Director General of UN Women, the United Nations entity dedicated to gender equality and the empowerment of women. The exchange will notably allow them to discuss how the tools of finance, and more specifically the Luxembourg financial centre, one of the first centres of sustainable finance in Europe, can mobilise investments to reduce the gender gap and strengthen the position of women.
Minister Backes will also give a speech at the Center for Global Economy & Business at the prestigious New York University on the history of European construction, the success of European unity and the future of the European project.
In Toronto, the financial capital of Canada, the Minister will meet with leaders of major Canadian financial institutions.
Finally, Yuriko Backes will take part in a seminar on the future of the European Union organized at the University of Toronto (Toronto U).