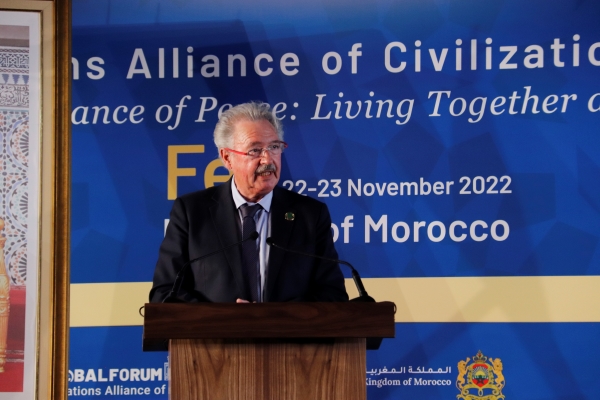 Jean Asselborn, Minister of Foreign and European Affairs; Credit: MAEE
On Tuesady 22 November 2022, Luxembourg's Minister of Foreign and European Affairs, Jean Asselborn, took part in the ninth edition of the World Forum of the United Nations Alliance of Civilizations (UNAOC), which took place for the first time in Africa, in Fez, Morocco.
Under the theme "Towards an Alliance for Peace: Living Together as One Humanity", the Global Forum brought together representatives from some 50 countries and several international organisations, including United Nations Secretary-General, Antonio Guterres, to discuss and explore approaches to reduce intercultural tensions, prevent conflict and promote peaceful coexistence.
During his speech at the high-level meeting of the Group of Friends of UNAOC, Minister Asselborn deplored the increase in phenomena of intolerance, racism, anti-Semitism and violence against women in the world, which have worsened since the COVID-19 pandemic. Speeches and violence motivated by hate have even multiplied and are fueled by disinformation campaigns, noted Minister Asselborn.
Regarding the outlook on refugees, Minister Asselborn said: "The current geopolitical situation, which has aggravated the already latent polarisation, inevitably leads to migratory movements. The pressure of climate change contributes in turn. Welcoming migrant populations is essential, but our efforts cannot stop there. It is not enough to welcome migrant populations, we must also guarantee their integration into our societies. To do this, it is our collective duty to combat stereotypes, misperceptions, discrimination and xenophobia, and to promote intercultural dialogue, understanding, mutual respect and cooperation".
In line with the vision of the Alliance, Luxembourg embraces diversity and pluralism. "With nearly half of our population made up of foreign citizens, our society is characterised by multilingualism and multiculturalism," the minister stressed, adding that, for all these reasons, Luxembourg highly values ​​the activities of the UNAOC.
In addition, Luxembourg welcomes and supports the priority areas identified in UNAOC's 2019-2023 action plan, which encompasses education, youth, media and migration. In this context, Minister Asselborn particularly welcomed the addition of a new pillar on women and the essential roles they play at all levels of life in society.
Finally, Minister Asselborn called on the States "to continue to progress, alongside UNAOC, towards the realisation of the right to freedom, dignity, democracy and social justice for all, regardless of be their origin, religion, culture, gender, sexual orientation or gender identity, or age".
On the sidelines of the World Forum, Minister Asselborn had bilateral meetings with his counterpart from Morocco, Nasser Bourita, and his counterpart from Yemen, Ahmed Bin Mubarak.