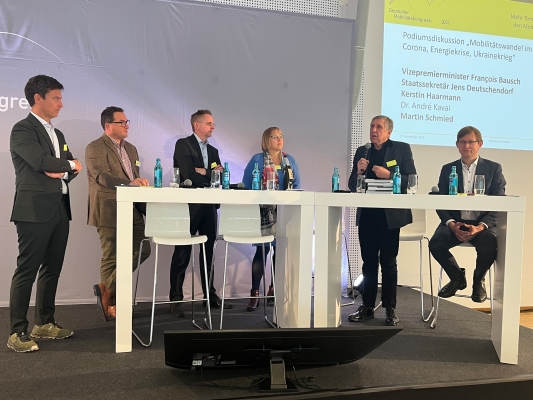 Credit: MMTP
On Tuesday 15 November 2022, Luxembourg's Deputy Prime Minister and Minister for Mobility and Public Works, François Bausch, participated as a panelist to the 8th German Mobility Congress "More speed for traffic and logistics - accelerate the mobility change!" in Frankfurt am Main.
There he took part in a panel discussion on the topic "Mobility change in crisis mode - Corona, energy crisis, Ukraine war".
In the panel discussion, Minister Bausch suggested for simple tariff structures in public transport, a higher volume of investment in infrastructure and the development of long-term, stable planning concepts that enjoy broad political support. According to Minister Bausch, in order to shape a change in mobility, it is necessary to promote the means of transport that can transport the most people per square metre.
Using the example of Luxembourg, Minister Bausch explained the importance of such investments. The per capita investment by the Luxembourg state in rail is the highest in Europe. For the past eight years, the Grand Duchy has invested more in rail infrastructure than in road construction. For example, more than €700 million will be mobilised for a new tram in Luxembourg City. The aim is to operate a rail network of 60 kilometres in fifteen years. The use of public transport, on the other hand, is free of charge for all passengers nationwide. In addition, a long-term, broadly supported planning concept for the year 2035 (www.pnm2035.lu) was developed.
Minister Bausch emphasised that the current crises are accelerating the change in mobility in Luxembourg. This would be shown by the number of cyclists in Luxembourg City, which doubles every two years, as well as the more than 80,000 passengers who use the tram every day. According to Minister Bausch, shutting down operations and investments in sustainable mobility in order to save money would be a missed opportunity to limit climate change.