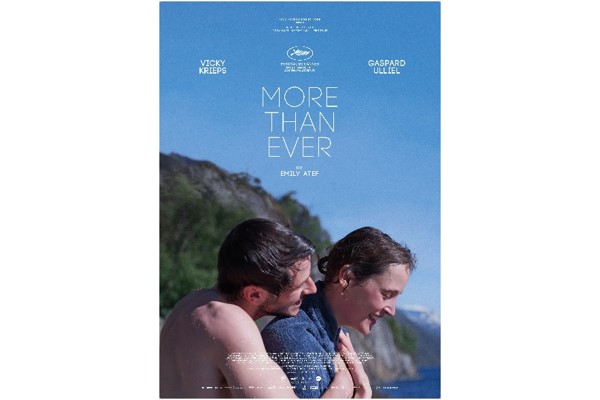 Credit: Samsa Films
The Cinemania Francophone Film Festival, which was held from 2 to 13 November 2022 in Montreal, Canada unveiled the winners of its 28th edition on Sunday evening and crowned the feature film "More than ever" by Emily Atef, a Samsa Film co-production.
The film competed in the "Faces of La Francophonie" section and won the prize for best TV5 Canada-Quebec film.
Luxembourg's Prime Minister and Minister of State, Xavier Bettel, who took part in the Festival at the beginning of November as part of the mission to promote Luxembourg in Montreal, at the heart of the international Francophonie, welcomes the success achieved by Luxembourg cinema and salutes the work of the award-winning film crews, proof of Luxembourg's dynamism and cultural influence abroad.
"More than ever" directed by Emily Atef is a co-production between France, Luxembourg (Samsa Film), Germany and Norway. Luxembourg actress Vicky Krieps plays the main role alongside young French actor Gaspard Ulliel, who died last January. At the level of the Luxembourg teams, additional casts include actresses Sophie Langevin and Valérie Bodson; the technical team stationed at the Filmand studios in Kehlen is made up of Catherine Dauphin (script), Capucine Courau (sound editing), Brigitte Kerger-Santos (executive producer), Kevin Dresse (head electrician), Jean François Roqueplo (head machinist), Jill Kibbey (set designer), Barbara Prati (props specialist) and Ambroise Gayet (general manager Luxembourg).
The film was selected this year at the Cannes Film Festival in the "Un certain regard" section.
This year Cinemania had an unprecedented focus on Luxembourg cinema, bringing together 20 films among which six films appeared in official competition, namely the fiction feature "More than ever" by Emily Atef (Samsa Film), three short films "The Ogre" by Aurélien Pira (Zeilt Productions), "Caroline on the roof" by Alejandro Bordier (Calach Films) and "The red suitcase" by Cyrus Neshvad (Cynefilms) as well as two feature documentaries "The Invitation" by Fabrizio Maltese (Red Lion) and "The Living Witnesses" by Karolina Markiewicz and Pascal Piron (Paul Thiltges Distributions).