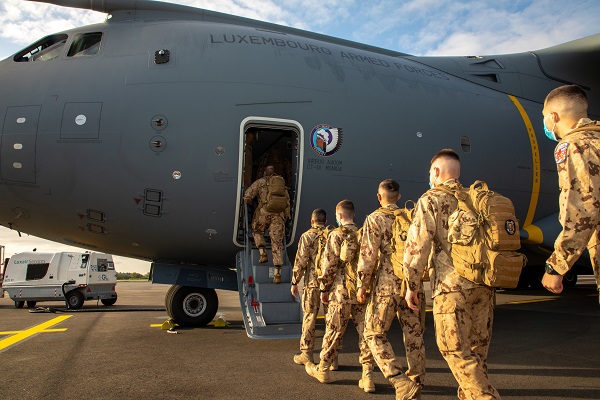 A400M plane with EUTM Mali Contingent; Credit: © Armée luxembourgeoise
On Friday 12 August 2022, Luxembourg's Directorate of Defence issued a statement clarifying the participation of the Luxembourg Defence in Mali, following recent developments and the deterioration of the political and security situation in Mali.
Luxembourg Defence is in Mali within the framework of the European Union Training Mission (EUTM) and the United Nations Multidimensional Integrated Stabilisation Mission in Mali (MINUSMA).
MINUSMA
In place since 1 July 2013, the main tasks assigned to MINUSMA by the Security Council are above all the protection of the population, assistance in stabilising the country as well as the implementation of peace agreements and the process of the reconciliation. MINUSMA has no mandate to act offensively against insurgents or terrorists.
Currently, two members of the Luxembourg Army are active in Mali as part of MINUSMA. The team is stationed in Bamako and responsible for keeping operational the satellite links made available by Luxembourg to MINUSMA and used to connect the four regional command posts (Gao, Kidal, Mopti, Timbuktu) to the headquarters in Bamako.
The Luxembourg team deployed as part of MINUSMA is generally present in the headquarters in Bamako. However, maintenance work is regularly carried out in the four regional camps.
In March 2022, the engagement of the Luxembourg Army in MINUSMA was extended until 31 March 2024.
Through the Permanent Representation of Luxembourg to the United Nations in New York, the Luxembourg authorities are consulting with the other troop-contributing countries and the UN General Secretariat so that a solution can be found with the Malian authorities in order to be able to pursue this important mission.
EUTM Mali
As for EUTM Mali, it was created at the request of the Malian government and is a European training mission for the Malian armed forces. Luxembourg has participated in the EUTM Mali mission since 2013 and currently 21 members of the Luxembourg Army are active there to ensure the protection of forces. The current mandate will end on 31 December 2022, which means a withdrawal of members of the Luxembourg Army.
As a reminder, the objectives of the EUTM consist above all in strengthening the capacities of the Malian armed forces by training military units and providing strategic and tactical advice to the armed forces.
The Luxembourg Defence is closely monitoring the political and security situation in Mali, in close consultation with our partners from EUTM and MINUSMA.
On 21 September 2022, the Deputy Prime Minister, Minister of Defense, François Bausch, will have a meeting in Berlin with the Minister of Defence of the Federal Republic of Germany, Christine Lambrecht. During this meeting, the two ministers will notably address the security situation in the Sahel