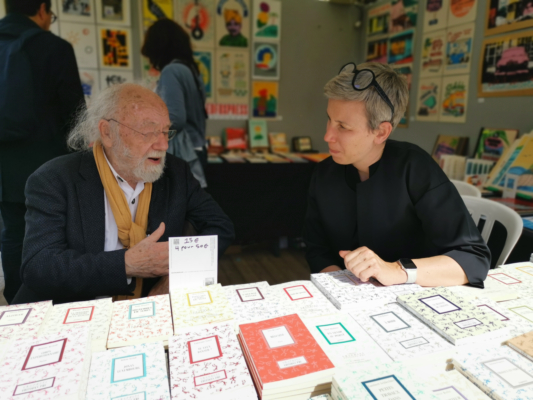 (L-R) Lambert Schlechter, author; Sam Tanson, Minister of Culture; Credit: MCULT
On Thursday 8 June 2022, Luxembourg's Minister of Culture, Sam Tanson, attended the official inauguration of the Marché de la Poésie (Poetry Market) in Paris which, for its 39th edition, gives pride of place to Luxembourg as a guest country of honour.
Minister Tanson also visited the Salon Révélations at the Grand Palais Éphémère, in which ten artists from Luxembourg will participate.
Initially scheduled for 2021, then postponed to 2022 due to the health crisis, Luxembourg's participation as guest of honour highlights the diversity of its contemporary and eclectic poetry. The poetry of the Grand Duchy is represented there by a delegation of eleven Luxembourgish poets and poetesses whose works bear witness to the linguistic diversity of the country:
French poetry: Serge Basso, Carla Lucarelli, Tom Nisse, Jean Portante, Nathalie Ronvaux, Lambert Schlechter, Florent Toniello and Hélène Tyrtoff
German-speaking poetry: Ulrike Bail and Nico Helminger
Luxembourg poetry: Nico Helminger
English poetry: Pierre Joris
Luxembourg poetry thus renews its recurring participation in the Poetry Market through a reinforced presence which is available on several stands and includes round tables and readings by its representatives. Parallel to the Luxembourg stand, coordinated by Kultur | lx, the poets and poetesses of the Grand Duchy are also represented on the stand of Éditions Phi and Redfox Press, as well as on various stands of French publishers, including, for example, Éditions La Rumeur Libre (Jean Portante) , Éditions L'Herbe qui tremble (Lambert Schlechter), Éditions Lanskine (Serge Basso), Éditions Arfuyen (Anise Koltz) and Éditions Bruno Doucey Anthologie.
During her speech, Minister Tanson acknowledged in this honorary presence of Luxembourg at the Poetry Market an appreciation and recognition, not only of the continued presence of Luxembourg poetry in Paris but also of the richness and diversity of voices contemporary Luxembourg poetics.
The Poetry Market is the largest poetry event in France, it takes place from 8 to 12 June 2022 at Place Saint-Sulpice and brings together some 450 publishing houses and poetry magazines, most of them French-speaking.
The fifth edition of the Salon Révélations will take place from 9 to 12 June 2022 at the Grand Palais Ephémère in Paris. Created by Ateliers d'Art de France, a trade association representing the 281 French crafts, the biennial event brings together professionals from the creative market and art craft enthusiasts. Luxembourg's participation is coordinated by the association De Mains de Maîtres Luxembourg, under agreement with the Ministry of Culture.