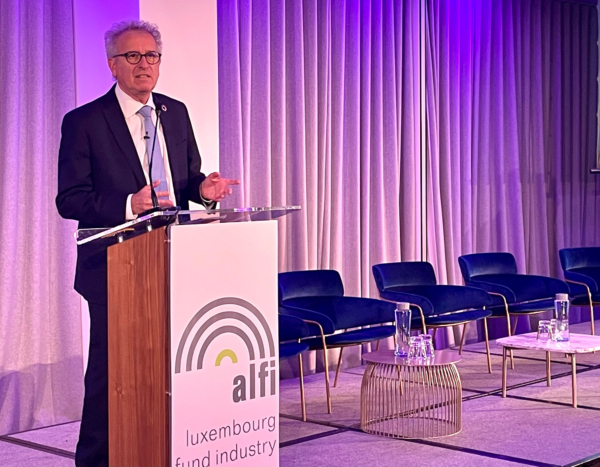 Luxembourg Finance Minister Pierre Gramegna addressing fund sector professionals at ALFI London Conference 2021; Credit: MFIN
Luxembourg's Minister of Finance, Pierre Gramegna, attended the first in-person ALFI London Conference since the start of the COVID-19 pandemic on 18 November 2021.
On this occasion, Minister Gramegna advocated the role of the financial sector in achieveing net zero emissions.
The Finance Minister addressed fund sector professionals at the conference, stating: "One of the positive effects of the COP26 in Glasgow is undoubtedly the reinforced engagement of the private sector, and more particularly of finance actors, in the financing of the fight against the climate crisis. The financial sector has realised the special role it plays in the transition to a future of net zero emissions and therefore the achievement of the objectives of the Paris Agreement. It is by mobilising the resources of the financial sector, including investment funds, that we will go from billions to trillions of euros".
He added: "The British capital remains one of our main financial partners in the world and we must further develop our cooperation in the key areas of sustainable finance and FinTech".
Today, UK-based investment fund managers represent around 17% of all Luxembourg funds.
Minister Gramegna took the opportunity to meet the heads of several British financial institutions, which set up or reinforced part of their operations in Luxembourg in the aftermath of Brexit. The discussions provided an opportunity to take stock of their strategic priorities in the European Union (EU), in particular in the field of the digitalisation of financial services and the financing of the climate transition. The minister called for a reinforced dialogue on ESG standards and definitions to make them comparable and consistent and thus facilitate sustainable investments.
Luxembourg's Finance Minister concluded: "These face-to-face meetings in London have deepened our relations with the main British players. For these entities, sustainable finance is a vector with great potential for the development of their activities in Luxembourg and across the European Union. Our discussions highlighted the need for closer cooperation to align our approaches to sustainable investment".