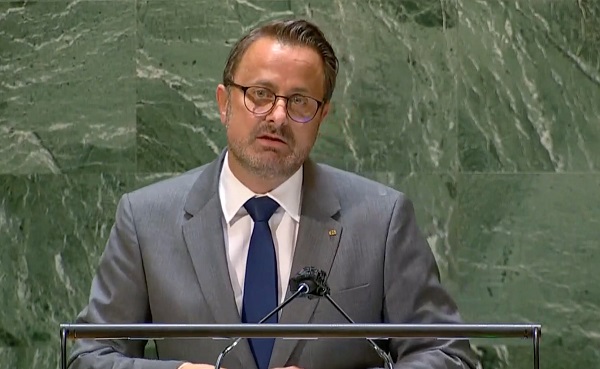 Luxembourg's Prime Minister Xavier Bettel; Credit: MAEE
In his national address at the 76th United Nations General Assembly (UNGA) in New York on Friday, Luxembourg's Prime Minister Xavier Bettel called for vaccine solidarity and climate action.
Luxembourg's Prime Minister began his speech by thanking the medical staff and researchers for their efforts throughout the COVID-19 pandemic. He noted: "If we can express ourselves in this forum, we owe it to the dedication, perseverance and genius of all those who have spared no effort for more than a year and a half to stem the COVID-19 pandemic".
Prime Minister Xavier Bettel then called for solidarity with regard to vaccination, stressing that: "Access to vaccines is unequal. And as long as that is the case, we will not be immune to new variants and more virulent mutations. Luxembourg is aware of the importance of vaccine solidarity. We are ready to continue our international solidarity efforts to fight the pandemic. I am optimistic that we will be able to overcome the pandemic if we rely on solidarity and science".
He also recalled that the pandemic should make it possible to initiate a change in mentality in the face of crises, especially in the context of climate change, which requires a common response. "The pandemic forces us to recognise the need and the urgency to change our how to. Business as usual is no longer an option. We must strengthen our collective action within the multilateral system, with the United Nations at its centre", he stated, adding that Luxembourg, as a founding member of the UN, "is ready to respond to the Secretary-General's call to set up a more solid, more efficient, more inclusive multilateral system, working more in a network. Only in this way can we ensure peace and security, sustainable development in all its aspects, including health, respect for the rule of law and human rights".
The Prime Minister concluded his speech on an optimistic note: "There are reasons to hope. Let's not give up. Let's persevere. Let's take action. Let us cooperate to overcome the trials that humanity faces. They should inspire us to act. As politicians, we must act decisively, together, to tackle global challenges. Governments do not have all the keys in hand. We must act in concert with private sector actors, civil society, our citizens, and in particular young people who are rightly worried about their future".
During his visit to New York, Prime Minister Bettel also attended several bilateral meetings, in particular with UN Secretary-General Antonio Guterres, 76th UNGA President Abdulla Shahid, Sengal's President Macky Sall, Kosovo's President Vjosa Osmani-Sadriu and Serbia's Prime Minister Ana Brnabic.