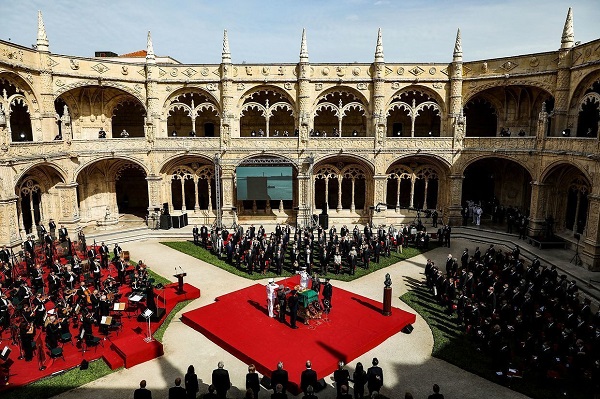 State funeral of Jorge Sampaio at Hieronymites Monastery, Lisbon; Credit: LUSA
On Sunday 12 September 2021, Luxembourg's Minister of Foreign and European Affairs, Jean Asselborn, travelled to Lisbon to represent the Grand Duchy at the state funeral of former Portuguese President Jorge Sampaio.
Jorge Sampaio, who served as the 18th President of Portugal from 1996 to 2006, passed away at the age of 81 on Friday 10 September 2021.
Current Portuguese President Marcelo Rebelo de Sousa, along with Prime Minister Antonio Costa and the Portuguese government, presided over the farewell ceremony, which took place at the Hieronymites Monastery (Mosteiro dos Jerónimos) in Lisbon on Saturday. In addition to Luxembourg's Foreign Minister, prominent international guests included His Majesty the King of Spain, the Secretary-General of the United Nations (UN), Antonio Guterres, the Prime Minister of Cape Verde, Ulisses Correia e Silva, and high representatives of Portuguese-speaking countries as well as France's Minister Delegate for Gender Equality, Diversity and Equal Opportunities, Elisabeth Moreno.
The ceremony highlighted the merit and the legacy left behind by Jorge Sampaio as a deputy, Mayor of Lisbon and President of Portugal. Minister Jean Asselborn paid particular tribute to his commitment as the UN High Representative for the Alliance of Civilizations.