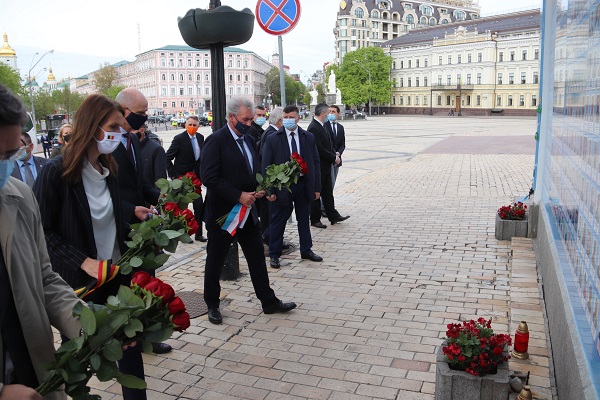 Wreath-laying at the Heavenly Hundred Heroes memorial; Credit: MAEE
Last week, the Foreign Ministers of Luxembourg, Belgium and the Netherlands undertook a two-day working visit to Ukraine.
Luxembourg's Minister of Foreign and European Affairs, Jean Asselborn, and his Belgian and Dutch counterparts, Sophie Wilmès and Stef Blok, arrived in Ukraine on Thursday 6 May 2021. Upon their arrival in Kharkiv, the Benelux Foreign Ministers were received by Vasyl Bodnar, Deputy Foreign Minister of Ukraine, before going by helicopter to Severodonetsk, in the east of the country, to visit the contact line at Shchastya.
The delegation met with the representative of the Ukrainian army staff and the governor of Luhansk oblast. On site, the ministers learned about the structures of the Shchastya crossing point as well as its operation.
On Thursday evening, the ministers and their delegations met representatives of civil society in Kiev to discuss the political situation and reforms in Ukraine.
On Friday 7 May 2021, the Benelux Foreign Ministers held political talks with the President of Ukraine, Vlodymyr Zelensky, and the Minister of Foreign Affairs of Ukraine, Dmytro Kuleba.
Prior to meeting with the Ukrainian Foreign Minister, the Benelux ministers laid a wreath in front of the "Heavenly Hundred Heroes" memorial commemorating the defenders of Ukrainian independence.
The various working meetings in Kiev enabled Minister Jean Asselborn and his Belgian and Dutch counterparts to have an in-depth exchange of views with their Ukrainian interlocutors. The discussions provided an opportunity to learn about the political and security situation in Ukraine, particularly in the context of recent Russian activities on the Russian-Ukrainian border, as well as the problems and tensions in the Donbass.
In this context, the Benelux ministers reiterated their unfailing support for the independence, sovereignty and territorial integrity of Ukraine.
Minister Jean Asselborn took the opportunity of these talks to discuss internal institutional reforms as well as the human rights situation in Ukraine. He underlined the importance of the Ukrainian government continuing to co-operate with the Venice Commission. Luxembourg's Foreign Minister also inquired about Ukraine's intentions regarding the ratification of the Council of Europe Convention on preventing and combating violence against women and domestic violence (better known as the Istanbul Convention), stressing the importance of this convention the fight against domestic violence.