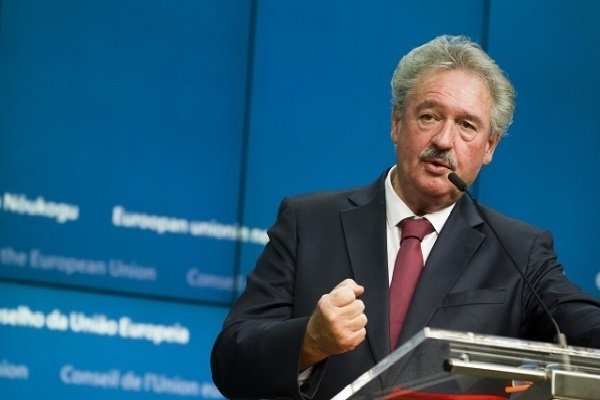 Jean Asselborn, Luxembourg's Minister of Foreign and European Affairs;
Jean Asselborn participated in the video conference of the Foreign Affairs Council of the European Union (19.04.2021)
Communicated by: Ministry of Foreign and European Affairs
On Monday 19 April 2021, Luxembourg's Minister of Foreign and European Affairs, Jean Asselborn, participated in the European Union's Foreign Affairs Council (FAC), which was held via videoconference.
The FAC began its session with topical issues, which allowed ministers to review the latest international developments. The foreign ministers notably referred to the ongoing negotiations in Vienna on the Iran nuclear deal, the situation in Georgia, as well as relations with India. The situation in Mozambique and recent developments in Myanmar were also on the agenda.
In his speech, Minister Jean Asselborn first expressed his solidarity with the Czech Republic in the context of recent revelations indicating the involvement of two members of the Russian secret service in the deadly explosion of two warehouses on Czech territory in 2014. He also showed solidarity with Poland, given the reprisals to which the Polish minority is currently being subjected by the authorities in Belarus.
Luxembourg's Foreign Minister was also concerned about the state of health of Russian opposition leader Alexeï Navalny. Faced with the spiralling tensions that characterise relations between the EU and Russia, the minister suggested that consideration be given to the advisability of appointing a renowned political figure who no longer exercises a political mandate with a view to a possible mission of mediation between the EU and Russia.
Subsequently, the European foreign ministers had an in-depth discussion on the situation in Ethiopia, as well as regional tensions.
Finally, the FAC videoconference was an opportunity for Minister Jean Asselborn and his European counterparts to take stock of the EU's policy towards Ukraine. Discussions on the matter were followed by an informal exchange of views with Ukraine's Minister of Foreign Affairs, Dmytro Kuleba. Ministers also mentioned recent developments on the ground, in particular with regard to the massive deployment of Russian troops along the Russian-Ukrainian border as well as in Crimea. Minister Jean Asselborn reiterated Luxembourg's unwavering support for the sovereignty, territorial integrity, independence and unity of Ukraine.