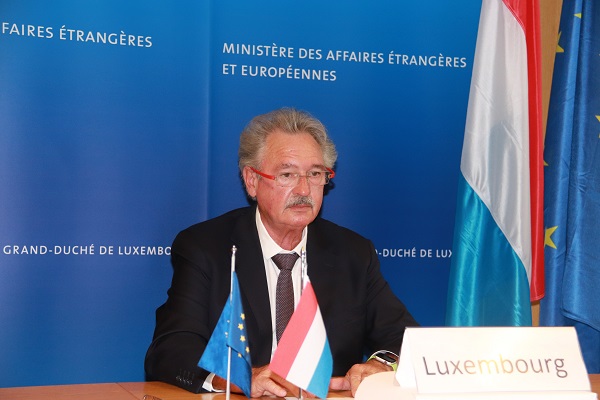 Jean Asselborn, Luxembourg's Minister of Foreign and European Affairs; Credit: MAEE
On Monday 18 January 2021, Luxembourg's Minister of Foreign and European Affairs, Jean Asselborn, participated in the informal meeting of the European Union's General Affairs Council, which was held via video conference.
Portugal, which has held the rotating presidency of the Council of the European Union since 1 January 2021, began by presenting the priorities of its presidency for the first semester of 2021.
Ministers also took stock of preparations for the Conference on the Future of Europe. The conference is expected to involve members of the public in a broad debate on what the future of Europe will be like in the coming years, especially in view of the COVID-19 pandemic.
Subsequently, Minister Jean Asselborn and his European counterparts addressed coordination within the EU in the context of the pandemic. Discussions focussed on issues related to vaccination and the coordination of restrictive measures. After thanking the European Commission for the efforts made to make effective and safe vaccines available to all Member States, Luxembourg's Foreign Minister stressed that "now is the time for all Member States to show citizens that the EU is up to the challenge of COVID-19, provided we can act in concert".
Minister Jean Asselborn recalled the importance of not losing sight of European achievements in the fight against COVID-19. He insisted that essential travel within the EU must be guaranteed and cross-border communities protected, stating that "however legitimate the protection of public health may be, European law imposes limits on us, in particular in terms of proportionality".
With regard to vaccination certificates, Luxembourg has advocated taking a cautious approach, given the many unresolved questions, particularly those relating to restrictions on free movement.