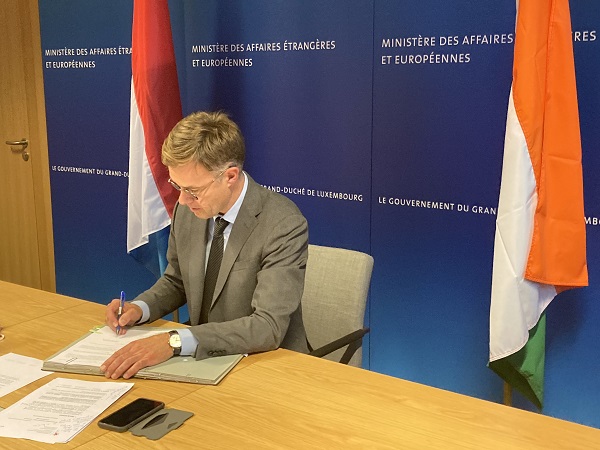 Franz Fayot, Minister for Cooperation and Humanitarian Action; Credit: MAEE
Luxembourg and Niger signed yesterday a new Indicative Cooperation Programme (ICP), covering the period 2021-25.
On Monday 28 September 2020, Luxembourg's Minister for Cooperation and Humanitarian Affairs, Franz Fayot, had an interview via video conference with Niger's Minister for Foreign Affairs, Cooperation, African Integration and Nigeriens Abroad, Kalla Ankourao. The exchange allowed the two ministers to address insecurity in the Sahel and the fight against terrorism, the political situation in Mali following the coup of 18 August, the electoral deadlines in Niger at the end of 2020, the human rights situation in the country and the impact of the COVID-19 pandemic, as well as the consequences following the recent floods which have left more than 500,000 people injured and several dozen dead.
In relation to the consequences of recent flooding, Economy Minister Franz Fayot deplored the loss of human life and confirmed the deployment of €250,000 in emergency humanitarian aid to support victims. This emergency support, implemented through the Luxembourg and Niger Red Crosses, will be used to quickly make makeshift shelters available to affected families.
The working meeting also allowed the ministers to formalise the temporal and budgetary extension of the third Indicative Cooperation Programme (ICP III). The ICP has been extended for one year, until December 2021, with a budget extension of €16.85 million distributed over the various sectors of intervention of Luxembourg Cooperation in Niger, namely basic education, vocational training, rural development, the water and sanitation sector, food security and demographic transition.
Luxembourg Cooperation has been active in Niger for over 30 years, making the Sahelian country one of the Grand Duchy's priority partner countries since the signing of the first ICP in 2003.