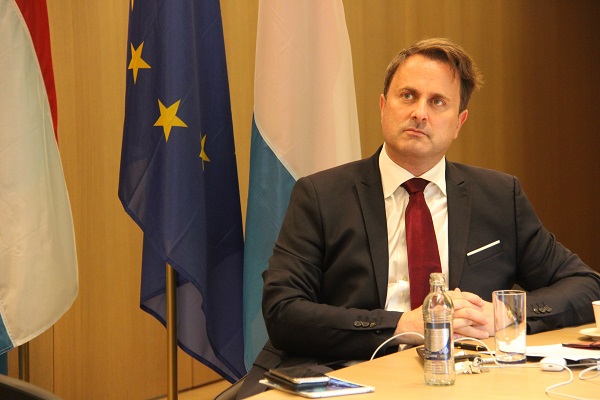 Luxembourg's Prime Minister Xavier Bettel; Credit: ME
Luxembourg's Prime Minister Xavier Bettel joined fellow European Union (EU) leaders via videoconference earlier today to discuss the EU's long-term budget.
On this occasion, European Council members discussed the Multiannual Financial Framework (MFF) coupled with the "Next Generation EU" stimulus fund aimed at tackling the COVID-19 crisis.
For his part, Luxembourg's Prime Minister welcomed the European Commission's proposal for a new recovery instrument and the MFF for the period 2021-27 which was at the heart of the debate at this European Council. Prime Minister Xavier Bettel stated: "Luxembourg welcomes the proposed package. The overall volume of the stimulus fund and the distribution between grants and loans rise to the challenge we face, because the economic shock resulting from this COVID-19 pandemic must be accompanied by equivalent European economic solidarity. This 'Next Generation EU' has the potential to be a real leap forward for Europe".
With regard to the European budget, the Prime Minister noted: "Our strategic priorities have not disappeared with COVID-19. The green transformation and the digitalisation of our economies are now more relevant than ever. This is why we need a modern and reformed MFF for the years to come, both in terms of expenditure and revenue. The proposal on the table today is therefore a good starting point. We must not waste any more time. It is time to adopt an ambitious European budget, responding to our strategic priorities and anchored in the principle of solidarity".
The debates held between EU leaders have therefore led to a substantive policy debate which will serve to prepare the next summit, which could take the form of a physical meeting (if possible) - the first since the coronavirus outbreak.