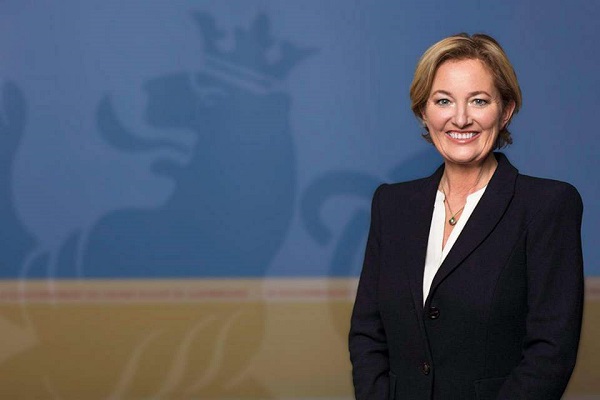 Paulette Lenert, Luxembourg's Minister of Health; Credit: © SIP / Yves Kortum
On Friday 6 March, 2020, European Union (EU) Health Ministers, including Luxembourg's Minister Paulette Lenert, met in Brussels for an extraordinary Health Council.
During this extraordinary European Council meeting, convened urgently by the Croatian Presidency, the health ministers took stock of developments relating to the spread of coronavirus within the EU. The ministers exchanged on the effectiveness of the measures taken at the Member State level and on the possibility of further strengthening European cooperation and solidarity.
Faced with the progression of the epidemic and in an attempt to best protect the health of all European citizens, the ministers agreed to strengthen their intersectoral cooperation and their exchange of information, so as to better align the essential preventive and preparatory measures. The ministers also insisted on the need to not give in to panic and on communication with the general public in favour of clear and transparent information based on scientific data in order to counteract the disinformation circulating on social networks, in particular.
On this occasion, Luxembourg's Health Minister Paulette Lenert informed her colleagues that "Luxembourg has embarked on an intense and constant interdepartmental dialogue process to find coherent and clear answers to the many questions that arise in relation to coronavirus". For Minister Lenert, "this approach must be reflected at the interstate level and a structured dialogue at the European level, and especially between neighbouring countries, based on transparency, coherence and solidarity, will be decisive for the evolution of this epidemic".
In accordance with the recommendations of the World Health Organization (WHO) and the European Centre for Disease Prevention and Control (ECDC), the EU Health Ministers agreed to develop a concerted approach for people who are sick and at risk, including vulnerable populations such as the elderly, as well as consistent containment measures and advice to travellers while maintaining the principle of free movement in the EU. Finally, the health ministers encouraged the European Commission to set up a European monitoring mechanism for the availability and needs of medical equipment and medicines in order to guarantee the production, storage, availability and rational use of personal protective equipment in the EU.