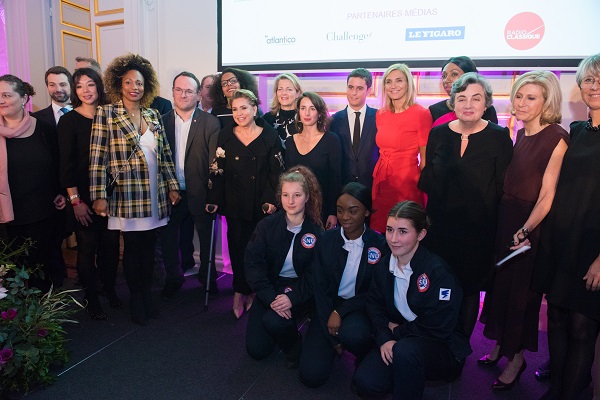 HRH Grand Duchess Maria Teresa surrounded by fellow nominees, jury and partners of the Prix de la Femme d'Influence 2019; Credit: © Cour grand-ducale / Julie Biancardini
The Grand Ducal Court has announced that Her Royal Highness the Grand Duchess of Luxembourg was guest of honour at the Prix de la Femme d'Influence 2019 award ceremony held at the Palais Brongniart in Paris on Monday.
Grand Duchess Maria Teresa was among the finalists of the prestigious Femme d'Influence award for year 2019 in the category "Politics", alongside former UK Prime Minister Theresa May, French Minister of Solidarity and Health Agnès Buzyn, Jeanine Mabunda Lioko, President of the National Assembly of the Democratic Republic of Congo, and Salomé Zourabichvili, President of Georgia.
The Grand Duchess closed the evening in the presence of Gabriel Attal, French Secretary of State to the Minister of National Education and Youth, presenting her commitments to women. These included the launch of the non-profit association Stand Speak Rise Up!, which aims to denounce rape as a weapon of war and sexual violence in sensitive areas, prevent their proliferation and support victims in their recovery and their need for justice.
During her speech, the Grand Duchess told an audience of 300 people, composed of political decision-makers from around the world, journalists and representatives of NGOs and large corporations: "The fight I am waging for women victims of sexual violence and the status of children born of war rape around the world, only reinforces my commitment to women in Luxembourg".