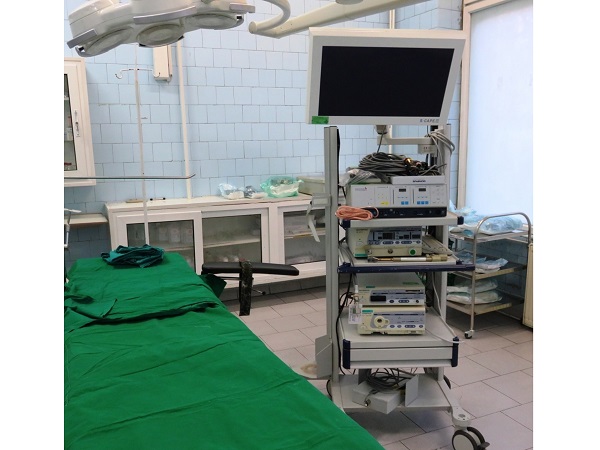 Medical unit at Departmental Emergency Hospital Sibiu in Romania; Credit: Lions Club Luxembourg Xenium; ROMLUX
Lions Club Luxembourg Xenium and the Romania-Luxembourg Business Forum Asbl (ROMLUX) have announced that, on 31 October 2019, the Departmental Emergency Hospital Sibiu in Romania inaugurated a state-of-the-art unit thanks to a large donation of medical equipment from Luxembourg.
This unit, developed from medical equipment provided by the National Institute of Cardiac Surgery and Interventional Cardiology (INCCI) Luxembourg will provide an emergency service in cardiovascular surgery to the population of Sibiu and its region of more than 1,300,000 inhabitants. Every year, no less than 400 patients will be able to receive surgical treatments of the highest standards.
Dr. Gabriela Cozmanciuc, Cardiovascular Surgery Specialist in Sibiu, commented: "Thanks to this donation from INCCI Luxembourg, we will be able to treat patients in Sibiu in the near future instead of sending them to other, much more remote hospitals that will put them on a waiting list".
The INCCI material was sent in July 2019 through the Luxembourg Xenium Lions Club "Donation of Medical Devices" project in collaboration with ROMLUX and the Bruckental Lions Club Sibiu. The delivered material includes a mobile imaging unit used in surgical procedures, a laparoscopy console with four channels used in the operating room, an electronic device to control blood pressure and temperature and a postoperative monitoring system for patients with a station and instructors.
According to Dr. Elisabeta Pletea, medical coordinator of the Lions Club Luxembourg Xenium Medical Supplies Project: "The material donated by INCCI is material that could not be sent anywhere. It must be used in combination with other equipment and handled by qualified personnel. The Sibiu hospital project will allow this material to be used optimally".
This Luxembourg donation was highly appreciated by both the medical profession and the authorities of the Sibiu region. The needs of certain regions of Romania are indeed important and the advanced equipment is sometimes lacking. Romania, on the other hand, has enough trained doctors, able to use and maintain this equipment in working order.
Daniela Cîmpean, president of the County Council Sibiu, added: "I thank all the partners of this philanthropic movement as well as the doctors from Luxembourg and Romania who made it possible to transfer the material to Sibiu. Heart disease is enormously devastating in our regions, the need is urgent".
Luxembourg was represented on this occasion by the Honorary Consul of the Grand Duchy of Luxembourg in Sibiu, Daniel Plier, Isabelle Lahr, Elisabeta Pletea and Pascale Bartz from the Luxembourg Xenium Lions Club and Daniel Purghel from ROMLUX.
The Lions Luxembourg Foundation will offer financial and logistical support for this project, as well as providing support for the nearly 1,000 Lions Club Luxembourg volunteers. To support these actions, donations can be sent to the account: LU46 0025 1688 6212 3400 of the Lions Luxembourg Foundation, citing "medical equipment".