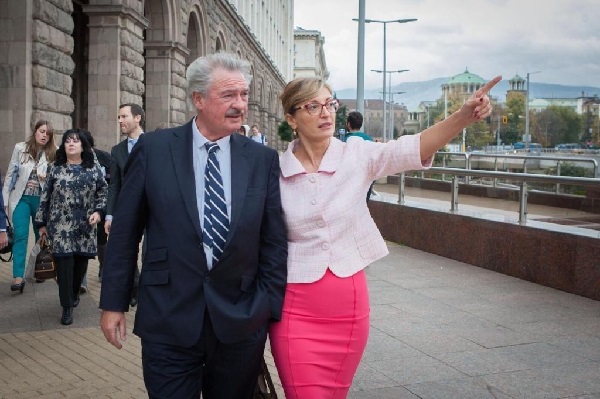 L-R: Jean Asselborn, Luxembourg Minister of Foreign and European Affairs; Ekaterina Zaharieva, Minister of Foreign Affairs of Bulgaria; Credit: MAEE
On Thursday 7 November 2019, Luxembourg's Minister of Foreign and European Affairs, Jean Asselborn, paid a working visit to Sofia, the capital of Bulgaria.
During his visit, Minister Asselborn was received by Bulgarian President Rumen Radev and had a bilateral meeting with his Bulgarian counterpart Ekaterina Zaharieva. Jean Asselborn also had an exchange of views with Prime Minister Boyko Borissov. The Luxembourg Foreign Minister's talks with the Bulgarian authorities focussed on bilateral relations, European issues and more particularly on the future of the European Union.
These meetings also reaffirmed the excellence of bilateral relations between Luxembourg and Bulgaria, as well as identifying a number of avenues for strengthening bilateral cooperation, particularly in the economic field.
Discussions then led to a review of the major issues of European news, through in-depth exchanges of views on the Multiannual Financial Framework (MFF) and the priorities of the new European Commission. In addition, both sides had an in-depth discussion of the latest developments related to the UK's withdrawal from the EU.
Minister Asselborn also discussed with the Bulgarian authorities the migration policy of the European Union, focusing in particular on migratory flows on the Balkan route. In this context, he reiterated the importance of solidarity between Member States in the reception of refugees.
Both parties saw a broad convergence of views on key European issues, including the protection of the rule of law in the EU. Minister Asselborn also reiterated Luxembourg's support for Bulgaria's membership of the Schengen area.
With regard to the enlargement process, both parties reaffirmed their support for the launch of the accession negotiations of North Macedonia and Albania, while regretting the latest developments related to this issue.
These exchanges finally made it possible to review the international political news. Minister Asselborn spoke about the situation in Syria, pleading for a strong commitment from the international community in the search for political solutions to this conflict.