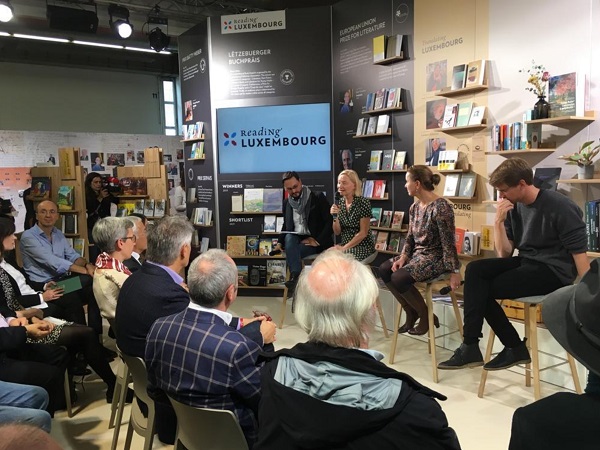 Credit: MCULT
Today marked the launch of this year's Frankfurt Book Fair, considered the most important international event for editors and publishers, which once again features a Luxembourg stand.
The event, taking place this year from 16-20 October in Frankfort, Germany, is aimed at book fans from all over the world and the international publishing and media industry, and is once again all about printed and digital content and the relevant topics for the coming year.
Indeed, this marks the second consecutive year that Luxembourgish publishers are being represented at the world's largest book fair, under the theme "Reading Luxembourg".
Minister of Culture Sam Tanson, who inaugurated the Luxembourg stand earlier today, explained: "Through the Reading Luxembourg programme, we are contributing to Luxembourg's international visibility as a literary country. The wide range of excellent works produced in Luxembourg deserves to be recognised and broadcast abroad. By developing our presence at other international fairs from 2020, such as the Paris Book Fair or the Paris Poetry Market, we will redouble our efforts to share our literary wealth with the rest of the world".
In Frankfurt, Luxembourg's literary sector will be represented on a 64m2 stand, divided into a business area dedicated to the promotion of publishers, award-winning books and translations, and a ReadingLX space reserved for the presentation of books on Luxembourg, its culture and its literature. From 16-20 October, some 170 titles will be presented by nine national publishers: Black Fountain Press; Capybarabooks; Editions Gérard Klopp; Editions Guy Binsfeld; Editions Phi; Editions Saint-Paul; Hydre Editions; Kremart Edition; Op der Lay.
Depending on the day, the Luxembourg stand will serve as a meeting platform, a place for exchange and/or a reception area with an eclectic programme of panels and presentations dedicated to the book chain.
Launched in 2018 by the Ministry of Culture in collaboration with the Luxembourg Agency for Cultural Action (ALAC), the Reading Luxembourg programme coordinates Luxembourg's presence at the Frankfurt Book Fair and promotes the export of Luxembourgish books through initiatives such as press trips or thematic professionalisation workshops.