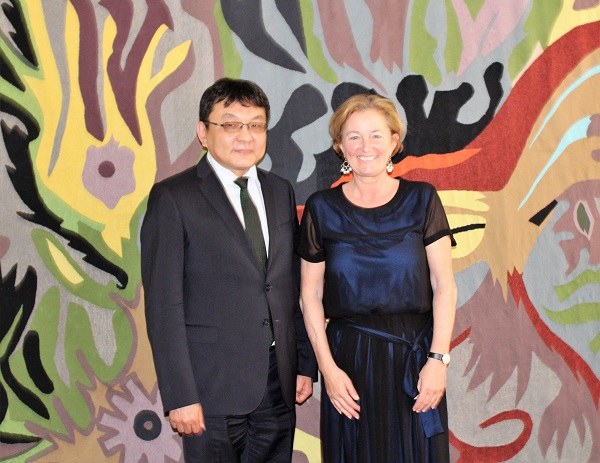 (L-R): Radnaabazar Altangerel, Ambassador of Mongolia; Paulette Lenert, Minister of Cooperation and Humanitarian Action; Credit: MAEE
The Directorate for Development Cooperation and Humanitarian Action in Luxembourg's Ministry of Foreign and European Affairs has reported that Minister Paulette Lenert met Radnaabazar Altangerel, Ambassador of Mongolia in Belgium and Luxembourg on Thursday 18 July 2019.
The courtesy visit provided an update on the work of the Luxembourg Cooperation, which began in 2001 in Mongolia. From the start, this cooperation in the project country has focused on the health sector and more specifically on telemedicine in the field of cardiology. It later included cardiac surgery, as well as maternal and child health and HIV / AIDS prevention.
Over the years, the telemedicine device set up has evolved from a simple email exchange system to specialized software for remote consultation and an electronic patient record, as well as a virtual system of education. for the training of health professionals. The impact of these measures is reflected in better training of health professionals in remote areas, an increase in early diagnosis and an update of obsolete equipment. As a result, a considerable reduction in mortality from cardiovascular disease could be measured.
With regard to maternal and child health, the strengthening of the Mongolian health system has achieved one of the Millennium Development Goals (MDGs) before the deadline. Thus, the infant mortality rate could be reduced by 50% since 2015.
In addition to this cooperation, funding for capacity building in the financial sector is also available: with the help of the Financial Technology Transfer Agency (ATTF), the Luxembourg Cooperation has financed courses for more than 1,600 professionals in the field of finance