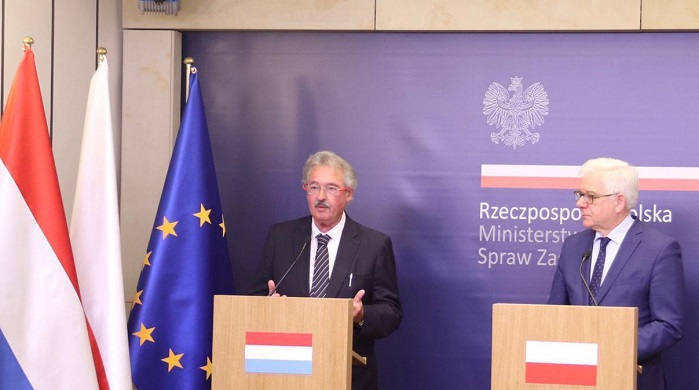 L-R: Jean Asselborn, Luxembourg Minister of Foreign and European Affairs; Jacek Czaputowicz, Minister of Foreign Affairs of Poland; Credit: MAEE
At the invitation of Poland's Foreign Minister Jacek Czaputowicz, Luxembourg's Minister of Foreign and European Affairs Jean Asselborn undertook a working visit to Warsaw on Wednesday.
During his visit to Warsaw, Minister Asselborn met with his Polish counterpart Jacek Czaputowicz and had an interview with Poland's State Secretary for European Affairs, Konrad Szymański. Discussions with the former focused on bilateral relations, including the growing economic and trade relations (with Luxembourg being the third largest foreign direct investor in Poland) as well as tackling current European and international political affairs.
The meeting between the Luxembourg and Polish diplomats was followed by a joint press conference, during which Minister Asselborn pointed out: "The intensity of the exchange with Minister Czaputowicz was a clear sign of our will and the need to act together, as Europeans, in the face of the challenges we face at home and on the world stage".
According to the Luxembourg Foreign Minister, the Member States need to work together to find solutions for the priority issues of Brexit, the establishment of the new European Commission, the management of migratory flows, the rise of populism and issues related to respect for the rule of law. He added: "I do not expect answers to all our questions overnight, but here is the proof that dialogue remains the best, if not the only path towards a solution and concrete results".
Recalling that the discussions in the EU Council have led to the realisation that respect for the principles of the rule of law is a prerequisite for the proper functioning of the EU and its internal market, Jean Asselborn expressed confidence that Poland will implement the judgments of the EU Court of Justice in this area. He also expressed his hope that a satisfactory resolution of all other outstanding rule of law issues in Poland could be achieved under the current Article 7 procedure.
On the issue of migration, Minister Asselborn recalled that the EU is based on solidarity and responsibility. As a result, all Member States should commit to finding worthy and humane solutions together.
The Luxembourg Foreign Minister's meetings with the Polish authorities also provided an opportunity to review regional news, taking stock of the situation in the Western Balkans and taking an in-depth look at the prospects for Ukraine following the inauguration of the new Ukrainian president.
The Minister also paid a courtesy call on Sejm (lower house of the Polish Parliament) deputy Marshal Malgorzata Gosiewska and Grzegorz Schetyna, chairman of the Sejm Foreign Affairs Committee, as well as meeting the Honorary Consuls of Luxembourg in Poland to take stock of the development of cultural and economic relations between the two countries.