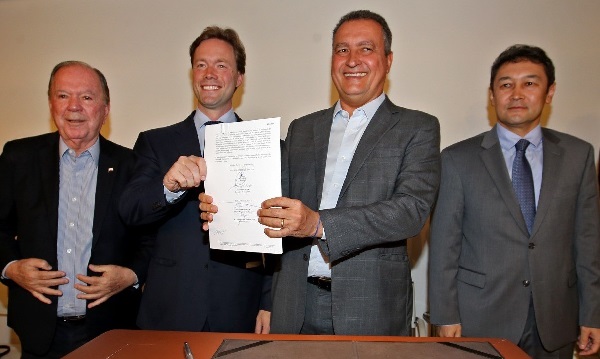 L-R: Kairat Sarzhanov, Ambassador Extraordinary and Plenipotentiary of Kazakhstan to Brazil; Rui Costa, Governor of the State of Bahia; Benedikt Sobotka, CEO of ERG; João Leã, Vice Governor of the State of Bahia and Economic Development State Secretary; Credit: ERG
The Eurasian Resources Group (ERG), a diversified natural resources group headquartered in Luxembourg, has signed a major agreement for the construction of Porto Sul, the new port complex in the State of Bahia, Brazil.
As reported by the government of the State of Bahia, the agreement on the unification of the terminals of Porto Sul, Ilhéus, signals the start of construction works for the new port, which aims to provide extensive storage and transport capacity for key commodities including iron ore, grain and fertilisers. Specifically, the capacity for iron ore will be for up to 41.5 million tonnes per year.
The signing ceremony was held on Tuesday 21 May 2019 in the Governor Acts Hall in Salvador, Bahia, where Eurasian Resources Group was one of the principal signatories. Chief Executive of ERG, Benedikt Sobotka, who was present on this occasion, said: "This agreement is an important step forward in accelerating the development of Porto Sul and ensuring that the right balance between economic development and commercial viability is reached. Today is the start of a new phase of our cooperation to deliver an investment programme of more than R$10bn (around US$2.5 bn) here in Bahia and make an important contribution to the continued development and success of the region".
Governor of the State of Bahia, Rui Costa, reiterated that the project only stands with the three assets together: the port, the railroad and the mining.
Porto Sul has obtained all the necessary environmental licenses to operate in the area. Works at the port are expected to start in the second half of 2019. Around 30,000 direct and indirect jobs are to be created during the construction phase of both the mine and port. Once completed, operational capacity will provide over 10,000 jobs.
The agreement forms a key part of the implementation of BAMIN, the ERG's integrated 20 mtpa iron ore mining and logistics greenfield project in Brazil.