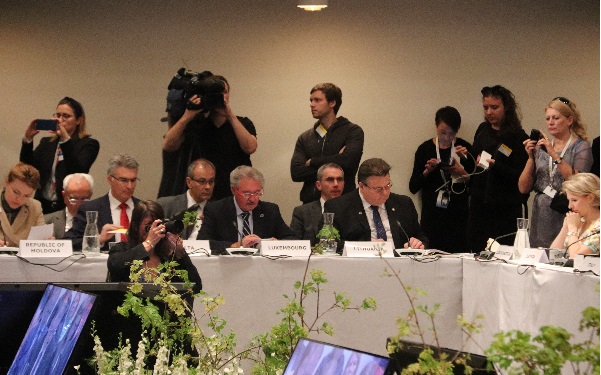 Credit: MAEE
Luxembourg Minister of Foreign and European Affairs Jean Asselborn participated in the Ministerial Session of the Council of Europe, held on 16 and 17 May 2019 in Helsinki, Finland.
The ministerial meeting began on 16 May with a commemorative ceremony celebrating the 70th anniversary of the Council of Europe before addressing its current and future challenges during an informal dinner.
The following day, the ministers met in formal session to continue their discussions and to adopt draft decisions concerning the reform and the future of the Council. During this session, the Ministers focussed on the Council of Europe's future prospects and its response to current and potential challenges.
For his part, Minister Asselborn stated: "Here in Helsinki, our ambition must be threefold: to remain united, to ensure the sustainability of the Organisation and to adapt the Council of Europe to its time".
He also welcomed the ambitious report to strengthen the Council of Europe submitted by the Secretary General, stressing that: "the Finnish Presidency has spared no effort to produce texts aimed at building the Europe of tomorrow, with a pan-European Council of Europe ready to respond to the challenges of our time".
Minister Asselborn similarly insisted that Luxembourg will support all efforts to strengthen the dialogue between the Committee of Ministers and the Parliamentary Assembly, without prejudice to the country's unwavering support for the sovereignty and territorial integrity of Ukraine in its internationally recognised borders. Recalling Luxembourg's commitment to the European Court of Human Rights, Jean Asselborn stressed that "we must ensure that we maintain a sufficient budget to enable it to continue its mission."
On the future of the Council, Minister Asselborn said that "the 70th anniversary of the Council of Europe should, finally, be an opportunity to adapt the Organisation to the challenges of today's society and that of tomorrow, such as artificial intelligence or modern forms of forced labour."
Finally, at lunch, the ministers had an exchange of views on the fight against social inequalities and the protection of social rights in Europe.