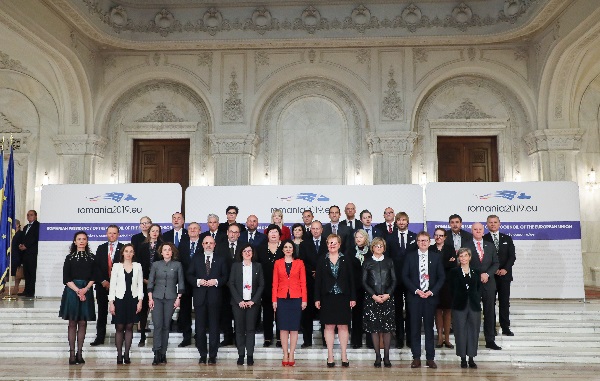 Credit: Ministry of Foreign Affairs of Romania / Andreea Tănase
Luxembourg Deputy Prime Minister and Minister of Health Étienne Schneider has called for better access to medicines for children with rare diseases, at the informal meeting of EU Health Ministers on 14 and 15 April 2019 in Bucharest, Romania.
The Romanian presidency opened the informal meeting of health ministers with one of the hot topics of the day in the field of health, namely access to innovative medicines and treatments. Although the majority of medications on the European market are centrally authorised, large differences in availability persist in the different Member States, with an average delay of two years for some.
For Minister Schneider, "quick and easy access to medicines must be possible for all patients, especially if the drugs have a real therapeutic advance. This is especially true for medicines for children with rare diseases. The quality, safety and efficiency of the products must be guaranteed at all times."
Several delegations joined the Luxembourg Minister's call for the" BeNeLuxA" collaborative initiative on the price and availability of treatments for rare diseases.
During the subsequent exchange on the mixed assessment of Directive 2011/24 governing patient mobility in the European Union, Étienne Schneider similarly insisted on the need to better inform citizens about their rights if they wish to be treated abroad. He, along with many of his counterparts, went on to stress the added value of the European Reference Networks for rare diseases and the e-health network, two emanations of the Directive that will allow better collaboration between Member States.
The Luxembourg Minister also had the opportunity to meet his Belgian counterpart, Maggie De Block, on the sidelines of the meeting to discuss various current issues, such as the shortage of general practitioners, the price of innovative medicines and the new Belgian law on quality in the field of health. With the Swiss Minister of Health, Alain Berset, Minister Schneider similarly discussed gene therapy, medicinal and recreational cannabis and the electronic health record, in preparation for the meeting of the German-speaking Ministers of Health (Germany, Austria, Liechtenstein, Switzerland, Luxembourg) in September in Switzerland.