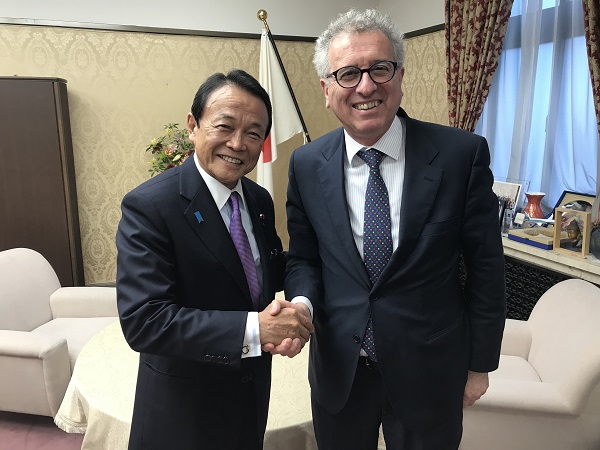 (L-R): Taro Aso, Japanese Minister of Finance; Pierre Gramegna, Luxembourg's Minister of Finance; Credit: MinFin
On Thursday 19 January 2019, during his trip last week to Tokyo, Pierre Gramegna, Luxembourg's Minister of Finance, met his counterpart Taro Aso, Deputy Prime Minister and Minister of Finance of Japan.
The two ministers welcomed the excellent bilateral relations between the two countries and discussed the political, economic and financial situation in Luxembourg and Europe, as well as the latest developments related to Brexit. Minister Gramegna also reaffirmed his commitment to international cooperation and openness in the face of increasing protectionism.
The ministers also discussed the topic of sustainable finance and identified new avenues for collaboration between the two countries in this area. For his part, Minister Aso, who chairs the G20 Finance Ministers' meetings in 2019, has expressed his intention to move global green finance forward.
Minister Gramegna also met the heads of MS & AD insurers, Tokio Marine and SOMPO, who in the context of Brexit chose to create their European hub in Luxembourg in order to continue serving their customers in the EU. These three insurance companies are already operational in Luxembourg on the basis of the licenses obtained last year by the Commissariat aux Assurances. The discussions with the insurers focused on the various aspects of their respective strategies in the European market. The application of innovative technologies in the insurance sector, InsurTech, was another major topic of discussion, and the Minister explained the benefits of the Luxembourg ecosystem for the development of these activities.
During his stay in Tokyo, Minister Gramegna also had working meetings with the managers of several fund managers to discuss their development strategies in Luxembourg and in Europe under the Brexit framework. He also had a meeting with Hiroshi Mikitani, CEO of Rakuten, to take stock of the group's new European and international activities.
Minister Gramegna also gave an opening speech in Tokyo, as part of the Asia Roadshow, the annual seminar organised by ALFI. In front of an audience of more than 150 people, the Minister highlighted the excellent financial relations between Luxembourg and Japan, and identified green finance and sustainable investment as a priority for the development of these relations in the coming years.
Pierre Gramegna commented "Today, I see that sustainable finance is gaining momentum in Japan and that as the population ages, the number of investment funds should continue to increase. Luxembourg, the European leader in the field of investment funds and sustainable finance, is today a financial partner of choice for Japan in its quest for a more sustainable society and economy."