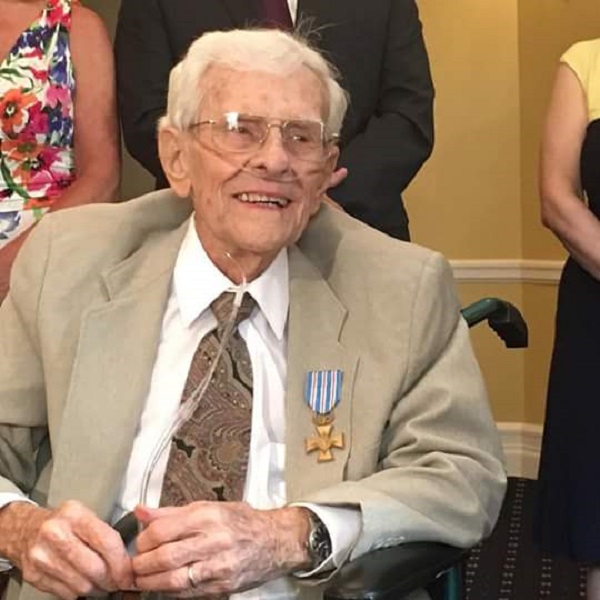 "When American GI and Veteran of the Battle of the Bulge Richard W. Brookins dressed as St. Nicolas for the children of Wiltz, Luxembourg, he had no idea he would change the town forever. An amazing true WWII story of heroism and hope which took place on 5 December 1944 continues to this day!" - these are the words of Peter Lion, author of "The American St. Nick, A True Story", which book inspired Tim Gray to produce the documentary of the same title – documentary that Hon. Ms. Jeanne Crauser, Consul General of Luxembourg in New York, shared with some 50 guests yesterday evening to pay tribute to the Corporal of the 28th US Infantry Signal Company Message Center on the day he owns.
While discovering an unknown tradition, it was with great emotion that the almost all-American audience learned about the acts of kindness and love toward the children of Wiltz by a then 22 year-old Richard W. Brookins stationed in Luxembourg to free the country from Nazi-Germany, which he has repeated eight times up until today. Following the documentary screening, attendees were eager to receive their copies of the book directly from the hands of 7-time EMMY winning Producer/Director, author and journalist Peter Lion.
The packed house greeted Benjamin Patton, youngest son of the late WWII's General George S. Patton, Jr. who, as per his request, is resting alongside 5,000 soldiers at the American Cemetery in Hamm, Luxembourg. Also in attendance, Katherine (Kit) Callahan Forrestal, daughter-in-law of the late James V. Forrestal, first US Secretary of Defense and first owner/resident of today's Consulate General of Luxembourg in New York.
The 94 year-old Veteran was recently awarded the Gold Cross of Honour and Military Merit granted to him by H.R.H. Grand Duke Henri of Luxembourg in recognitions of these acts of kindness and support to civilian morale to the children of the city of Wiltz. The medal was presented to him at a humble ceremony in Rochester, NY on 7 July 2016 by former Consul General Jean-Claude Knebeler in the presence of family members, and author Peter Lion.
Richard W. Brookins was sorely missed but the entire house was filled with his spirit. He will forever represent the friendship between the city of Wiltz, Luxembourg and Rochester, NY ultimately between the Grand Duchy of Luxembourg and the United States of America.
For more information, see www.americanstnick.com
Photos (above): Richard W Brookins with Medal at Ceremony in Rochester NY on 7 July 2016; (below): Author Peter Lion on 8 December