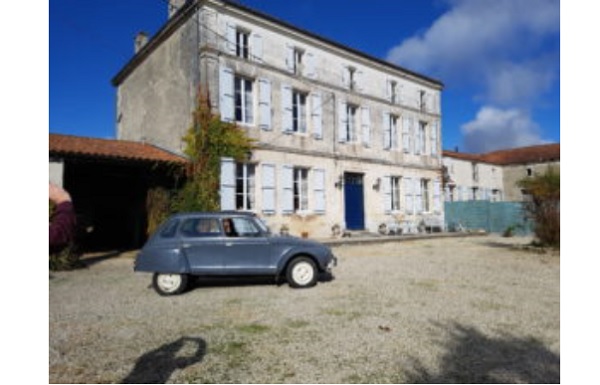 A Mindfulness Week-end is being held in a countryside chateau in Cognac, near Bordeaux, in western France over the second week-end of February 2019.
This Mindfulness Weekend is a unique opportunity to retreat and restore both the body and mind, guided by a qualified mindfulness teacher, who will introduce participants to a range of practices to help them bring awareness to the present moment and cultivate attitudes of kindness and compassion towards themselves and their experiences.
Over the course of the weekend, participants will be introduced to mindfulness and guided in various meditation practices by a fully qualified mindfulness teacher. Practising core meditation practices such as the body scan, sitting meditation and mindful movement, participants will develop skills which they can incorporate into their everyday lives.
"Many misconceptions about mindfulness exist. It does not allow us to empty the mind of thoughts or achieve some higher state of ultimate peace and calm. Rather the practices experienced will help to develop a certain degree of concentration and steadiness in the mind which brings insight into what is going on in our experience in any given moment. Meditation helps us to see what is present and how we are relating to it."
As well as guiding the above meditations, the Mindfulness Leader will share some basic Buddhist teachings, which can provide food for thought. Participants will also have the opportunity to enjoy mindful walking and experience through the senses this beautiful part of France.
Mindfulness Leader
Martin Towey, a diploma-trained teacher in mindfulness-based intervention, will be running the Mindfulness week-end. Having practiced meditation for many years, noticing the benefits in his own life, Martin was keen to learn how to teach others the skills of mindfulness. Since completing the intensive 18 month diploma at the Mindfulness Centre for Professional Training in Ireland, he has taught various courses. He regularly gives 8-week Mindfulness-Based Stress Reduction courses to healthcare staff within the HSE. Recently, he ran a mindful movement course for people living with Parkinson's disease at the practice where he works as a neurological physiotherapist. Martin adheres to the Good Practice Guidelines set out by the Mindfulness Teachers Association of Ireland.
The venue, Aulagnes
The beautiful country chateau is surrounded by gorgeous vineyards and the programme also includes a taste of France and some of the very special things it has to offer...
Aulagnes is a beautifully elegant and serene country house nestled in the Cognac countryside and only an hour away from the wonderful city of Bordeaux. Standing on the top of a hill, the views from Aulagnes are magnificent, a 360 degree uninterrupted view of vineyards and rolling hills. The house exudes a warm welcome and a wonderful sense of home, having been lovingly and tastefully restored in recent years. Its living areas are relaxed yet sophisticated while its seven bedrooms are wonderfully comfortable and full of character.
The Aulagnes caretakers are Charlie (from Rathfarnham and Kildare) and Olive (from County Meath), an Irish couple on a French adventure looking to create space where things can happen...
Cost
This exclusive Weekend is open to 10 participants with a minimum number of seven.
Cost: from €450 (sharing) or €480 (single room), with a 10% discount for bookings by 14 December. The cost covers all mindfulness and relaxation sessions, all meals, beverages and accommodation and all guided outings. Yoga mats and sitting stools are also provided.
For bookings and further details, see www.ceangal.eu