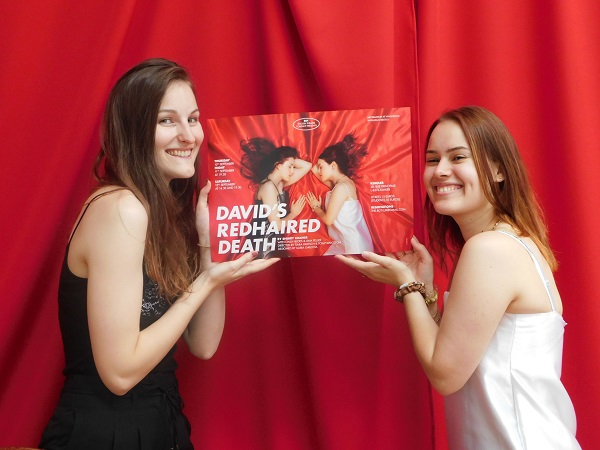 Leading ladies Cindy Bloes and Lina Peller; Credit: Alfonso Salguiro
Following the success of last year's production, "Wolves Are Coming For You", the Luxembourg-based Berliner Grundtheater e.V. (BGT) is returning this month with its second annual showcase English-language play for trainee actors: "David's RedHaired Death".
Despite the substantial impact of the COVID-19 pandemic on the performing arts, live theatre has made a comeback in Luxembourg, and whilst finding a suitable venue proved challenging in the current context, the upcoming BGT play will now be performed at the Kinoler cinema in Kahler. Seating is limited due to coroanvirus-related restrictions, although BGT co-founder and director of "David's RedHaired Death", Tony Kingston, emphasised that what matters most is the possibility of being able to perform live theatre again.
"David's RedHaired Death" showcases the talents of local actresses Lina Peller and Cindy Bloes, as well as 17-year-old assistant director Tiara Partsch. Both Lina and Cindy have worked previously with director Tony Kingston in school theatre, before going on to study acting and diction at the Conservatoire de Luxembourg. They pursued their training further at the Ludwig Maximilian University of Munich, where Lina, who designed the first BGT summer project "Wolves Are Coming for You", studies Drama and Sociology and Cindy, who starred in the theatre company's 2014 production of "Little Women", is completing a Master's Degree in German Literature following a Bachelor in German and Theatre Studies.
For her part, budding director Tiara Partsch is set to study theatre directing in Michigan (USA) later this month. Tiara had previously worked together with BGT on "Charles Dickens, the Best of Men; the Worst of Men" and at the Festival of English-language School Theatre (FEST) earlier this year. She started off as a musical theatre actress before trying her hand at choreography, blocking (staging) and eventually directing.
Synopsis
First preformed in 1992, "David's RedHaired Death" is a moving story of the love between two women and the way that one man's death can affect it. Jean and Marilyn are redheads. They are used to getting their own way and to using the mythical power of the "redhead" to have who or what they want. But when they meet each other, they have met their matches. As they fall in love, it seems they have found the partner, and the sister, they have always looked for. That is, until David's death changes everything...
A moving mix of absurd comedy and heart-breaking tragedy, the play is a poignant and sensitive look at the way bereavement can change everything.
"David's RedHaired Death" will be performed on Thursday 10 and Friday 11 September at 19:30 and on Saturday 12 September 2020 at 14:30 and 19:30. At the time of writing, the Thursday performance is fully booked, although cancellations may lead to availability on the night. Tickets cost €15 (€10 for students) and can be reserved exclusively via email: the.bgt.lux@gmail.com. Payments are to be made at the door.
For further information on the play, the cast and the BGT in general, please visit https://www.bgt.lu/.
To read Chronicle.lu's interviews with the director, assistant director and cast, see https://chronicle.lu/category/amateur-dramatics-choral/33597-budding-young-director-discusses-upcoming-bgt-play-davids-redhaired-death and https://chronicle.lu/category/amateur-dramatics-choral/33790-local-actresses-lina-peller-cindy-bloes-discuss-bgt-play-davids-redhaired-death.