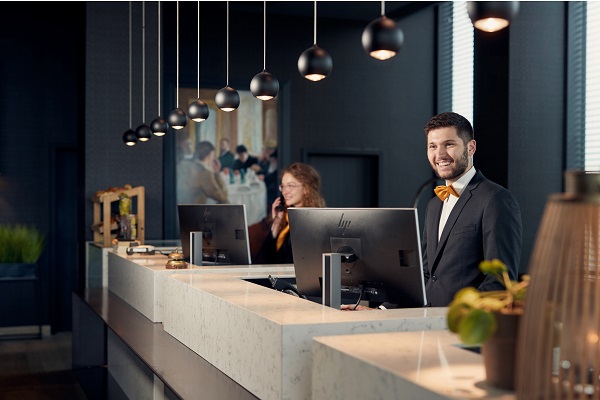 Credit: Hotel Van der Valk Luxembourg-Arlon
The 4-star Hotel Van der Valk Luxembourg-Arlon, which opened in January 2018 on the Luxembourg-Belgium border, has announced details of its conferences and events rooms, as well as its catering and restaurant options.
The hotel, owned by a branch of the Van der Valk family, offers several possibilities for companies and individuals looking for a space to hold meetings, conferences, seminars and corporate or private events – Hotel Van der Valk boasts ten rooms (including seven customisable, multi-purpose rooms), each with a secure and high-speed wireless connection, air conditioning and balcony.
These rooms are distributed on one floor and can accommodate up to 600 people. Surrounded by huge bay windows, the meeting rooms benefit from natural light and access to adjoining terraces. All rooms are equipped with a giant screen, a sound system, a projector or computer connection. Flipcharts, markers, pen and paper are also available. Renting a meeting room enables guests to customise the package and catering options according to their desires. An open break out area creates the perfect atmosphere for breaks during the meetings with various food and beverage options.
Moreover, Hotel Van der Valk hosts customisable private events, such as birthdays, weddings and anniversary celebrations across its ten multi-purpose rooms and a private bar with a panoramic view. Similarly, staff parties from companies can take advantage of different team-building activities, as well as cocktails, barbecues or aperitif dinners. The decoration of the rooms is inspired by classy elements. Clients have the option to book a DJ and choose from a range of activities to entertain their guests. Buffets and specific menus are designed to suit all budgets, as are the beverage options and the open bar package.
In addition, Hotel Van der Valk boasts two restaurants, each with their own character: Brasserie L'Oeuf and the buffet restaurant Le Nid. Both feature live cooking from large open kitchens, outdoor and indoor playgrounds for children and a terrace. The kitchen and bar of Brasserie L'Oeuf, which prepares grilled meats and local specialties among other dishes, are open daily from 12:00 to 22:30. Meanwhile, Le Nid is open on weekends from Friday to Sunday and offers two buffet options: Soirée Live Cooking on Fridays and Saturdays from 19:00 to 22:00; and the Buffet Brunch on Sundays from 12:00 until 15:00 (which will return from Sunday 8 September 2019).
Further information about room and event bookings are listed in the hotel's "Conferences & Events" brochure, as well as on the Hotel Van der Valk Luxembourg-Arlon website: www.hotelluxembourg-arlon.be. Information on the various dining options can also be consulted on this site.