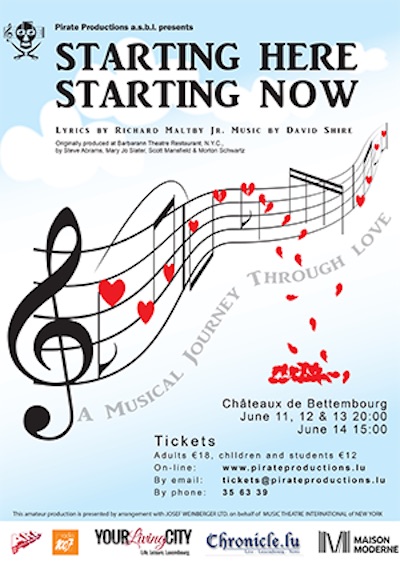 The Luxembourg Chronicle, is offering a pair of FREE tickets to one of this week's performances of the new Pirates Productions' show Starting Here, Starting Now taking place from Thursday through Sunday at the Château de Bettembourg.
"Starting Here, Starting Now" opened originally Off-Broadway in 1977, running for 120 performances. The excitement of young love and the confusion of growing up (or the other way around?) are explored in this intimate revue from one of the most respected teams in the contemporary musical theatre, Richard Maltby Jr. and David Shire. Using songs from their various early musicals, this bold, extroverted journey takes a winsome cast through the maze of modern relationships with its heart firmly on its sleeve. As with all of Maltby and Shire's work, each song is an impeccably crafted story – original, engaging, bursting with character and showcasing the performers' versatility and charisma. From tender ballads to hysterical husband-hunting laments, from wry comments on trendy marriages toecstatic shouting-from-the-rooftop celebration, "Starting Here, Starting Now" has an appealing freshness that has made it a perennial favourite throughout the world.
The Luxembourg version of the show is directed by Allison Kingsbury and Phillip Dutton, along with musical director, Mick Swithinbank. The cast features nine singers. The performances will start at 20:00 on Thursday through Saturday, and at 15:00 on Sunday. Seating will be arranged in tables of eight.
To apply for your FREE tickets to Starting Here, Starting Now this week, please send an email to Geoff@Chronicle.lu with "Starting Here, Starting Now Competition" in the subject line, not forgetting to mention which performance you would like to attend. The draw will be made at 14:00 on Thursday 11 June. Winners will be contacted directly. Winning tickets will be available at the venue on the day.